Illustrations – Valeria Issa
Spoilers Ahead!
This story shows how what we experience throughout our days can show up in our dreams at night, in particular what we're thinking about as we fall asleep. At the beginning of this story, the boy has a book about dragons on his bedside table and while he sleeps he is protected by a dream dragon.
The dream dragon wanted to be the boy's main dream so it would be remembered in the morning. The dream dragon chased good dreams away and breathed fire on the bad dreams, until the boy learns about dinosaurs at school. The boy then has dream protectors in the forms of a T-rex, followed by a super hero, then a pirate. The dream dragon is sad that the boy no longer dreams of it, but at the end of the book a girl has a book about dragons on her bedside table…
Bedtime stories are powerful and this one would be a great tool to help children who experience nightmares. I love the idea of teaching children that the characters in their bedtime stories can be their own dream protectors, doing battle on the child's behalf while they're sleeping to help keep away bad dreams.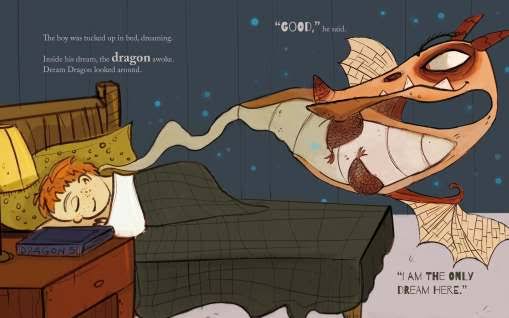 I liked the illustrations, none of which looked scary. The dream dragon itself is quite quirky and kind of adorable in an ugly cute kind of way.
Thank you very much to NetGalley and Xist Publishing for the opportunity to read this book.
Once Upon a Blurb
A dragon protects a child's dreams from nightmares in this picture book perfect for bedtime. Bedtime stories inspires a series of dream protectors for a little boy. The dream dragon keeps the nightmares away and is joined by dinosaurs, pirates, super heroes and more in the quest to keep nighttime safe.