Illustrations – Michael Paraskevas
Poetry for Kids: Robert Frost is the latest in a Poetry for Kids series, with previous books featuring poetry by Emily Dickinson, Carl Sandburg and Walt Whitman. This book contains 30 of Frost's poems, prefaced by an introduction of Frost's life and inspiration for his poetry, and followed by short explanations of each poem's meaning in a section titled 'What Robert Was Thinking'. There are definitions included with each poem for words children (and adults) may not be familiar with.
This book is part of an established series so obviously there must be a children's market for this type of book but personally I would have preferred to see this book marketed as a gift book. Without the 'for Kids' branding I think the market would have opened right up for this book.
The audience for this book is listed as 8+ but I know I wouldn't have appreciated this book as a child. At 8 I was reading Roald Dahl, not poetry books, and I don't think that's so unusual.
My fear for this book is that it may be used in schools to teach poetry at kids instead of to kids, and that could ruin Robert Frost for them. I say this because the only poetry I've ever hated with a passion have been poems taught to me. I always baulked at a teacher telling me emphatically what the poet meant by each word, line by line. I wanted to have the opportunity to think about the poem myself and decide what it meant to me, and always wondered if the poet actually intended the poem to be interpreted the way my teacher said was the only way, the right way.
Digressing, that reminds me of a story about Alfred Hitchcock helping his granddaughter write an essay for film school about his movie Shadow of a Doubt. Her grade? C. So the story goes, he shrugged and said, "That's the best I can do".
Anyway … I grew up adoring The Road Not Taken but that was mostly because my Nan used to quote it all of the time and I'd often read the photocopied poem stuck to a wall in her house with Blu-Tack. I don't know I would have liked it as a kid without my Nan's influence.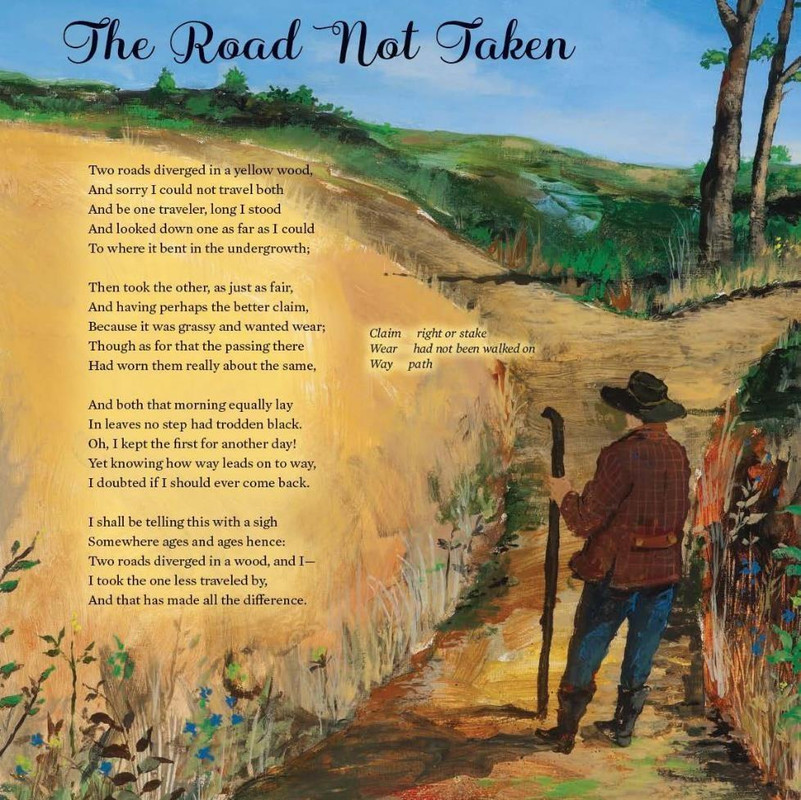 Michael Paraskevas' illustrations are absolutely wonderful! They complement the poetry beautifully. I think adults will like them better than kids though. It's only as an adult that I appreciate artwork like this.
Thank you so much to NetGalley and Quarto Publishing Group – MoonDance Press for the opportunity to read this book.
Once Upon a Blurb
A collection to be read, experienced, and treasured.
Whether capturing a cold New England winter's evening, or the beauty of an old, abandoned house, four-time Pulitzer Prize-winning poet Robert Frost left an indelible mark on our consciousness. This stunning celebration of his best-loved work includes 35 poems specially chosen for children ages 8 to 14 by author and historian Jay Parini.
Illustrator Michael Paraskevas brings the poems to life with his pitch-perfect scenes, infused with majestic color and quiet simplicity. Poems include "Mending Wall," "Birches," "The Road Not Taken," "Fire and Ice," and "Stopping by Woods on a Snowy Evening,"
This gentle introduction also includes commentary, definitions of key words, and an introduction to the poet's life.