Spoilers Ahead!
I was surprised by how emotionally attached I became to the main character in Pride of the Decent Man. Told in chapters, this graphic novel follows the life of Andrew Peters. Growing up in an abusive home, Andrew's Grandma teaches him to hold onto the good times to get through the bad. His Grandma takes photos throughout her life to reflect on as she grows older. Inspired by her, Andrew begins to write, capturing his thoughts and experiences in a series of journals.
Andrew tries to do the right thing in his life but allows his friend Whitey to consistently rope him into plans which never turn out the way he intends. The idea of redemption is common in a lot of what Andrew has been reading and when he discovers he has a daughter he hopes that his chance to redeem himself has come.
My heart melted when Andrew reads to his daughter what he wants to say to her. He's more comfortable writing than speaking and the fact that he wanted to get this interaction with his daughter just right was so touching.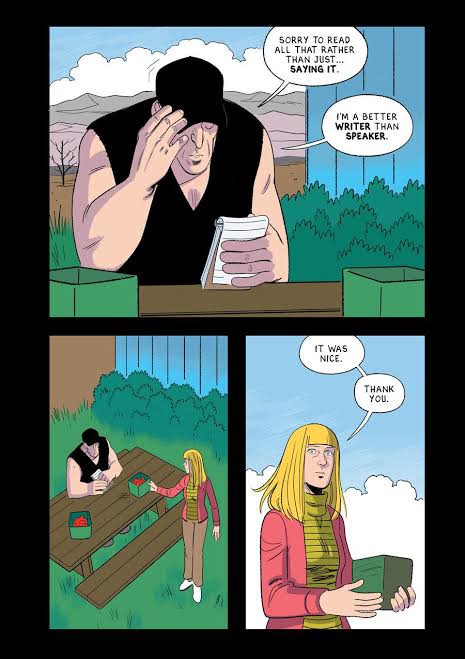 Ultimately Andrew is a good man who strives to overcome his past and I imagine he just wants to be the kind of man who his Grandma, then girlfriend and finally his daughter will be proud of. He leads a quiet, often solitary existence and I found myself really liking him. I was proud of him for taking responsibility for his actions and I wanted everything to turn out well for him.
In under 100 pages, T.J. Kirsch made me connect with his main character more than a lot of authors of 400 plus page novels do. The writing was fairly sparse but this made the words that were written have more of an impact. The illustrations told the rest of the story, allowing access to Andrew's emotions. Sometimes in graphic novels you can feel a disconnect between the story and the illustrations. Given that this graphic novel was written and drawn by the same person, there was no feeling of anything being lost in the translation.
I really liked the interplay between the handwritten portions of Andrew's journals and the speech. The flashback scenes added to the story and were done in such a way that they blended in to the story and I didn't find them distracting as a reader. I loved the use of the birds' silhouettes throughout and particularly loved the symbolism of the brightly coloured butterflies in the final panel.
I suppose part of what drew me to Andrew was the fact that I'm also more comfortable expressing myself through writing than speaking. I do know I wasn't expecting a great deal from this graphic novel and I've come away having read it twice so far with respect and admiration for this rough around the edges main character.
Thank you so much to NetGalley, NBM Publishing and Papercutz for the opportunity to read this graphic novel.
Once Upon a Blurb
In a sleepy New England town, Andrew Peters is born into an abusive family. As he grows older, he seems to be on the right track, using writing as his outlet — but his best friend Whitey is always pulling him in the opposite direction. Andrew eventually lands himself in prison, and shortly thereafter, learns he has a daughter. The shock resolves him to a path of redemption and an attempt to live his life as a decent man.