Illustrations – Mauro Sorghienti
🛸 The Truth is in Here! 👽
The Mattigan kids (Maddie – 12, Max – 10 and Theo – 8) accidentally disproved their sceptic father's belief that Mysterious Monsters aren't real in Mysterious Monsters: Bigfoot. Bigfoot now lives in the basement of the family's mansion and their father is none the wiser. Unfortunately a video of the three children hunting Bigfoot went viral and put their father's show in jeopardy, so in order to salvage both his reputation and television show the four Mattigans are on a family road trip to Las Vegas.
Rumour has it that the government have had an alien at Area 51 helping them understand alien technology and the Grey alien, J-Pod, has now escaped. The race is on to find J-Pod, with alien hunters coming out of the woodwork and taking over the desert in their search. Combine that with an extraterrestrial convention and Las Vegas is now overrun with people dressed up as Little Green Men and all of the other alien races.
While their father conducts his own investigation to disprove once and for all the existence of aliens, kids Maddie, Max and Theo are determined to find J-Pod themselves.
I enjoyed Alien almost as much as the first book in the series. There's something special about a first book that's difficult to recapture as the characters are all strangers to the reader and you're not quite sure what's in store for you story wise. Theo was the stand out character in this book but I still think Max will be my favourite of the series. How can I not favour the bookish sibling?!
This book felt more like I was an invisible fifth wheel with a family I've known for years but for some reason doesn't acknowledge my presence. Perhaps it's my invisibility? I didn't see Mulder or Scully while I was in Vegas but it's highly probable they were wearing alien costumes and blending in at the convention.
Besides too many aliens to count the Mattigan children also come across some zombies in Vegas, but not the type you're thinking of. I thought the social commentary regarding the zombies was quite clever and dealt with in a child appropriate way.
I had to giggle each time the kids would encounter a new situation and Maddie pondered if that's what is meant by 'what happens in Vegas stays in Vegas'. Naturally I expect (well, hope) this would go straight over the heads of kids reading this book but if your kid is reading it you may want to have an answer ready if you're asked what it really means.
The family's catchphrases that I'd been concerned would be nauseating by the end of this book were still cute and funny. While they were all still used in this book they don't appear as frequently so they blend more into the rest of the conversations. There was the same sort of cringeworthy but fun dad humour as the first book and some good funny bits throughout; my favourite being the sign at the gas station. 'EAT HERE, GET GAS FREE' 😁
Easter Egg 🥚 : For those of you old enough to remember the movie Harry and the Hendersons, I found its inclusion in this book to be a lovely nod to the first book in this series. I won't tell you how old I was when that movie was released but I adored it!
Once again I was in awe of Mauro Sorghienti's incredible illustrations. I don't have a favourite in this book but they're all wonderful and match the feel of the story so well. I'm keen to see more of this artist's work.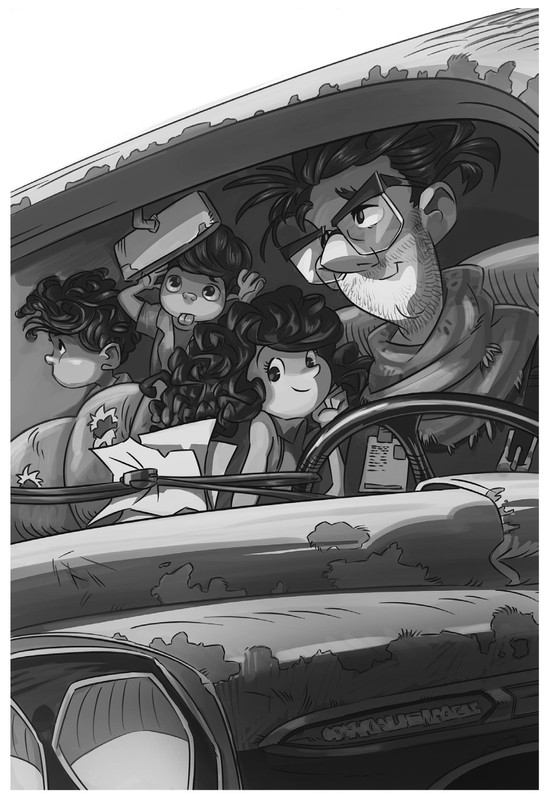 Thank you so much to NetGalley, Incorgnito Publishing Press imprint Corgi Bits and Smith Publicity for the opportunity to read this book.
I'm looking forward to the third book, Vampire 🧛‍♀️ 🧛‍♂️, scheduled for release in fall. Woohoo!
Once Upon a Blurb
With Bigfoot safely stashed in their basement, Maddie, Max, and Theo Mattigan are off to Las Vegas with their dad. His plan is to prove there are no aliens on the loose there. But now that his kids know that Mysterious Monsters are real, they're making plans of their own. 
They'll need clever disguises, well-hidden walkie-talkies – and more than a few broken eggs – to find out, once and for all, what's hidden in the notorious Area 51.