When I saw the cover photograph of Under Dogs and read in the blurb the comparison between this book and previous favourites like Underwater Dogs and Shake it was a no brainer for me. I had to have this book and start it immediately!
I'll admit it. I'm a dog person. I also love cats that are happy to hang out on your lap for hours while you read and cuddle them but the pets who have always owned me have been dogs. I practically melt each time a dog comes up to me and deems me worthy of giving them a cuddle. I met the most adorable 14 week black labrador on the beach yesterday. His name is Jet and he's at the soft puppy fur, slightly nippy but surprisingly well behaved stage.
He came right up to me for a cuddle and I considered dognapping him on the spot. He was so big and brave when a big dog came to say hi until the big dog got too close and little Jet's bravery ran out. He ran to me, put his front paws on my knees, leaned against me and asked without saying a word for me to protect him from this scary giant.
Incidentally the scary giant was actually a grown lab and so placid and adorable itself, but this puppy didn't know that and he trusted me, a stranger he'd met less than 5 minutes earlier, to protect him. Aww! 😍 Why did I tell you that story? I don't know. I guess looking at the photographs in Under Dogs reminded me of the most recent canine I've fallen in love with.
Andrius Burba's photography is gorgeous! While it's very difficult to take a bad photo of a dog regardless of your skill level, Andrius' perspective and composition was wonderful. I loved the stark black background as there was nothing to distract me from the sweet, quirky and interesting expressions on the dogs.
There are fluffballs with feet, dogs who couldn't care less that there's a photographer and/or camera equipment beneath them and others who are peering down with bemused, intrigued or dorky looks on their faces. There are a couple who look to me like they have fear in their eyes and I can only hope if this is true that someone was there to cuddle them in my absence after their photo was taken.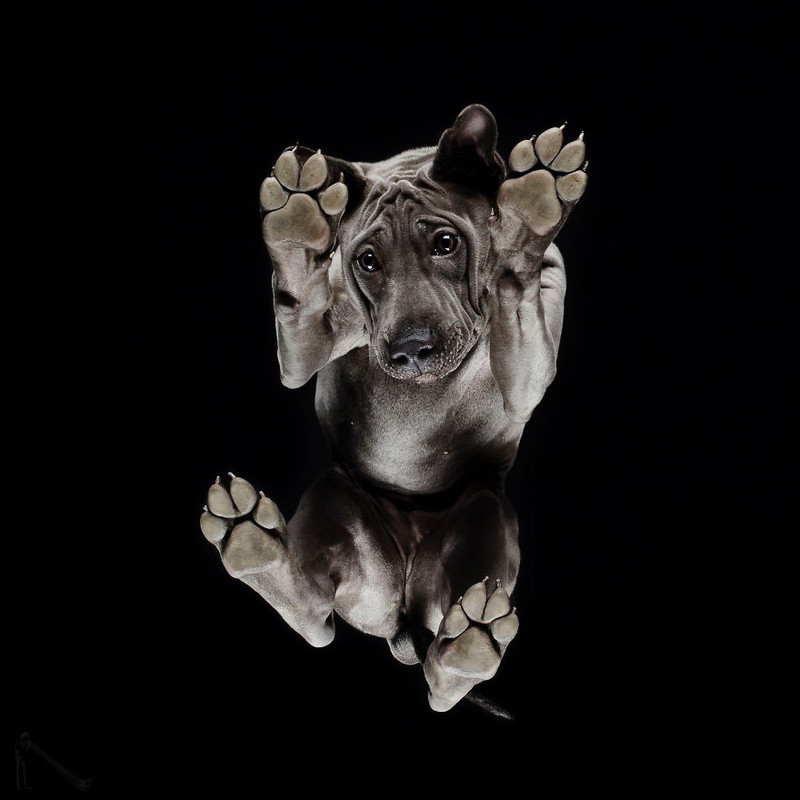 I have two favourite dogs in this book. The first is a Basenji who looks a little like it's been jumping on a trampoline and is currently midair. It's got the cutest little tummy wrinkles and head wrinkles. Its pads are still mostly new puppy pink with the beginnings of the darker patches that come with experiencing the world. The look on its face is one that appears to be a mix of curiosity and a wary concern about what's going on beneath their feet. With a shiny black nose and eyes that seem all pupil, this is the dog I most wanted to cuddle and borrow forever.
My second favourite is an Italian Greyhound momma that's sitting with her back left leg lifted in the typical 'I'm about to lick my genitals' position. I'm sure I'm not the only one that makes up stories about what's really happening in pictures I see and what I loved about this photo is the timing and the angle that shows her lifted paw directly in front of her eyes. Her head is turned to the left. You can almost imagine that she's camera shy and is hiding her eyes in the most awkward way possible in an 'if I can't see you then you can't see me' moment.
A couple of elements were missing in this book that I've appreciated in other dog photography books. While each portrait is accompanied by the breed of dog it features, at no point do we learn the name, age or any fun facts about any of the dogs. There also isn't the introduction I've come to expect from the photographer explaining why they chose this perspective, how they accomplished it or any anecdotes about misbehaving or funny outtakes.
I expect this is going to be one of the more popular gift books of 2018 and I am almost positive I'll be buying it myself once it's released. For those of you who aren't dog people, I've found a cat version by the same photographer, Unter Katzen, that you may want to check out. I wouldn't be surprised to see an English version of this one printed soon.
Thank you so much to NetGalley and Andrews McMeel Publishing for the opportunity to be one of the first to adore this book.
Once Upon a Blurb
An adorable book of dog photography showing our furry friends from an unexpected perspective – from underneath.
In the vein of bestsellers like Underwater Dogs and Shake, Under Dogs is a heartwarming and unique look at man's best friend. Photographer Andrius Burba's striking images of dogs taken from below are by turns surprising and hilarious – providing readers with a little-seen view of the pets we love.