Am I a nerd? ✔️
Do I like flowcharts? ✔️
Do I like gift books? ✔️
Do I like laughing? ✔️
I found The Best Damn Answers to Life's Hardest Questions: A Flowchart Book and thought I'd hit the quadfecta. It turns out that just because something ticks all the right boxes it doesn't always mean you'll find the gift book of your dreams.
I wouldn't need a flowchart for a lot of the questions anyway:
Room for dessert? – Duh! Always!
Do I need a vacation? – See above.
Do I need more coffee? – Again, see above.
I'm too nerdy to fully appreciate the carefree look of these flowcharts. They don't have different symbols for each action type and without arrows a messy flowchart can be kinda difficult to navigate in sections. Also, some of the questions don't result in a flowchart, just a rant or a pros and cons list, which didn't make sense to me as it's a Flowchart Book.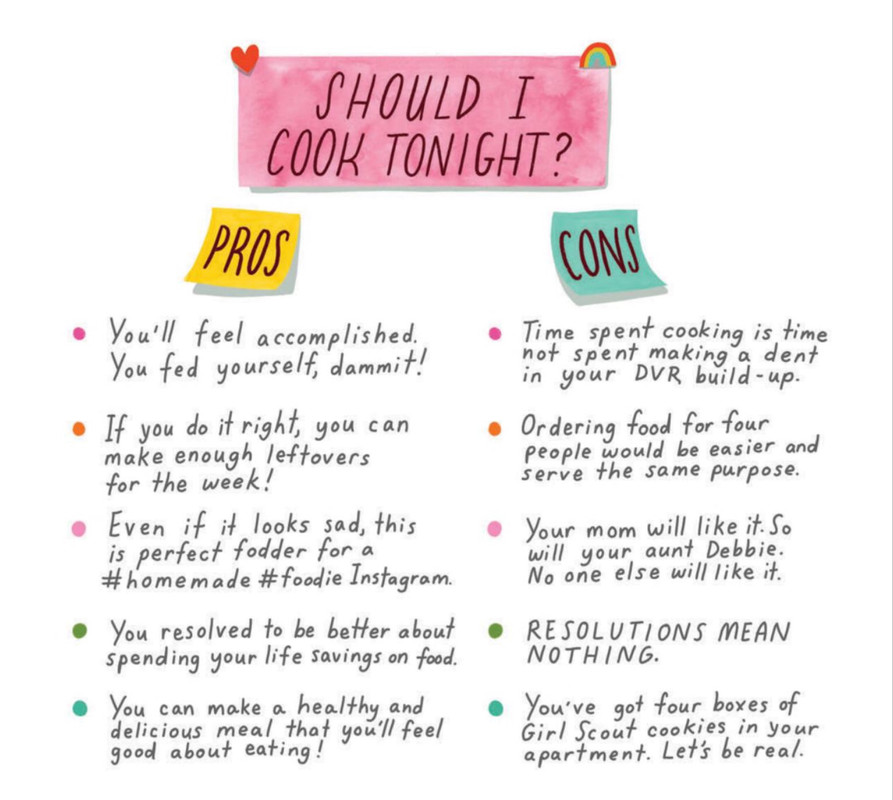 Maybe we can chalk it up to the fact that this book is asking questions of millennials when I'm too old to even pretend to be one, if I actually wanted to. However, regardless of my age, I doubt this ever would've been the book for me.
Thank you so much to NetGalley and Workman Publishing Company for the opportunity to read this book.
Once Upon a Blurb
A hilarious and utterly relatable collection of flowcharts, rants, and lists about adulting.
A humourous guide to adulthood in a collection of 54 charmingly illustrated flowcharts and pros-and-cons lists that each address an all-too-real question, from the mundane to the life-changing. Will I survive this hangover? (Probably not.) Should I cancel my plans? (YES! Cancel immediately.) Am I having a quarter-life crisis? (Probably.) Do I even like this person? (Nope, nope, nope.) This inspired book of humour disguised as invaluable advice is a gift to make anyone feel better, proving that every question, thought, and decision, no matter how ridiculous or irresponsible, is completely valid.