I love 💕 books 📚 written in diary form! I especially love 💕 books 📚 written in diary form that are illustrated! I love 💕 emojis 😃😍😋🤪😎! Unfortunately I didn't love 💕this book 📖. Maybe I'm comparing it too much to others I've read like Dork Diaries but I found this book 📖 bordering on boring 💤.
There's a dire warning ⚠️ about not reading this book 📖 until 2126 with the threat of such cool 😎 stuff as hundreds of tarantulas 🕷 jumping out of massive black blisters on your hands 🤚. I read the warning ⚠️ page and got my hopes up but it turned out that this was the only page that really showed the kind of personality I've come to expect in diary format kid's books 📚.
It's not like nothing happened. We follow Max, who's 11, through his first year at middle school. Max lives in France 🇫🇷 with his parents and sisters Marion, who's 14 and super annoying and Lisa, who's 8 and the favourite child. He's best friends with Tom, a skinny nerd 🤓. Together they play Zombieland 🧟‍♀️ 🧟‍♂️ on Xbox 🎮 and they have their own chicken 🐔 nugget eating record. Max has a crush on Naïs who is consistently described as pretty.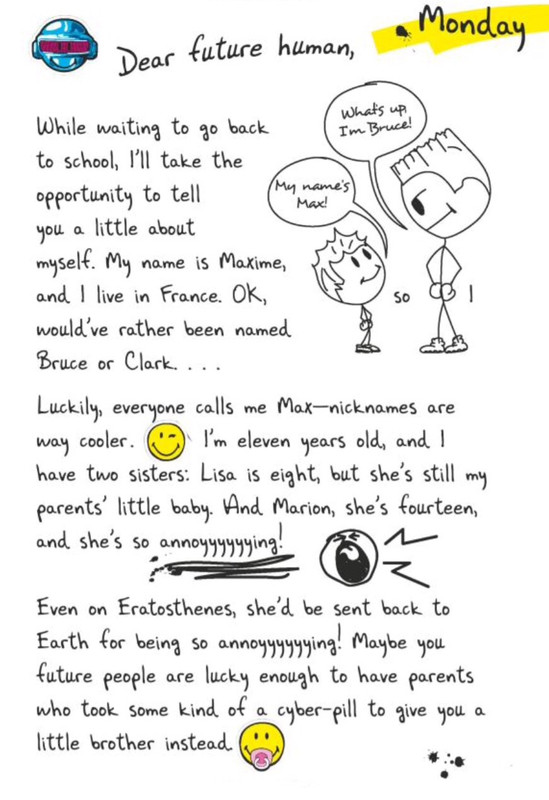 At school there is assigned seating and of course Max has been assigned to sit next to his arch nemesis, Raoul. Max recounts gym dramas and other classes he attends. There's a field trip to the retirement home, exchange students visit from England 🏴󠁧󠁢󠁥󠁮󠁧󠁿 and there's a field trip to the Eiffel Tower. There are also visits to Max's grandparents, skiing ⛷ and parties 🎈to plan and attend. During the school year there is an ongoing mystery of who is responsible for the graffiti on the wall on the way to school and how the artist knows so much about Max.
So, with all of this happening why wasn't this a ⭐️⭐️⭐️⭐️⭐️ book 📖? There wasn't the humour I expected. The main character barely had a personality. There were cute illustrations and emoji overload, but I'm not desperately needing to read the second book 📖 in this series. Perhaps this one was just setting the groundwork for future incredible stories. Maybe some of the humour got lost in the translation.
What it boiled down to for me was that this book 📖 was just okay 👌. I'm not jumping up and down excited 😆 about my new discovery but I also made it to the end so it didn't completely suck either. I may relent and try the second book 📖 (maybe) but it won't have the honour of going straight to the top of the TBR pile.
Thank you very much to NetGalley and Andrews McMeel Publishing for the opportunity to read this book 📖.
Once Upon a Blurb
Follow the middle school misadventures of Max, as recorded in his hilarious Diary of a Wimpy Kid–style journal that is unconventionally illustrated with the internationally recognised emoticons of the SmileyWorld brand.
Warning: Do not read before 2126! My Life in Smiley: It's All Good is meant strictly for people of the future, chronicling the life and times of Max, an average eleven-year-old. Annoying siblings, stage fright, love at first sight – can you believe what kids in the 21st century had to deal with? Follow his illustrated diary as has embarks on a great journey – the first year of middle school in France. Max's journal entries, humorous drawings and colourful smileys recount his adventures in making new friends, dealing with bullies, and surviving a ruthless P.E. teacher. Along the way, Max starts to figure out how to interact with his peers, and he realizes that at the end of the day, no matter what life throws at him, it's all good!