Nesbit the chameleon grew up in a pet store so he doesn't know what rain is. Cecil the toad is annoyed by Nesbit's innocence about the way life works outdoors but Jeremy the earthworm has empathy for Nesbit. Usually the spring rain doesn't cause any problems for the habitat but this year Cecil's pond floods.
While Cecil always wanted a waterfront property he didn't want his home to be under the water. Jeff the hamster arrives in a speedboat to help his friends. He's seen something from his treehouse that may be causing the flood. The friends work together and with their new beaver friends, Bud and Patricia, to solve the problem as a team.
The importance of helping friends is demonstrated when Evelyn the caterpillar helps Nesbit early in the story and when Nesbit later helps Evelyn. Empathy is encouraged and solving problems by making sure that both sides are happy with the solution is explored.
Along the way young readers will learn facts about the different animals in the story and there are additional facts after the story about beavers and the lifecycle of a monarch butterfly. The illustrations are sweet and the colours are bright and cheerful.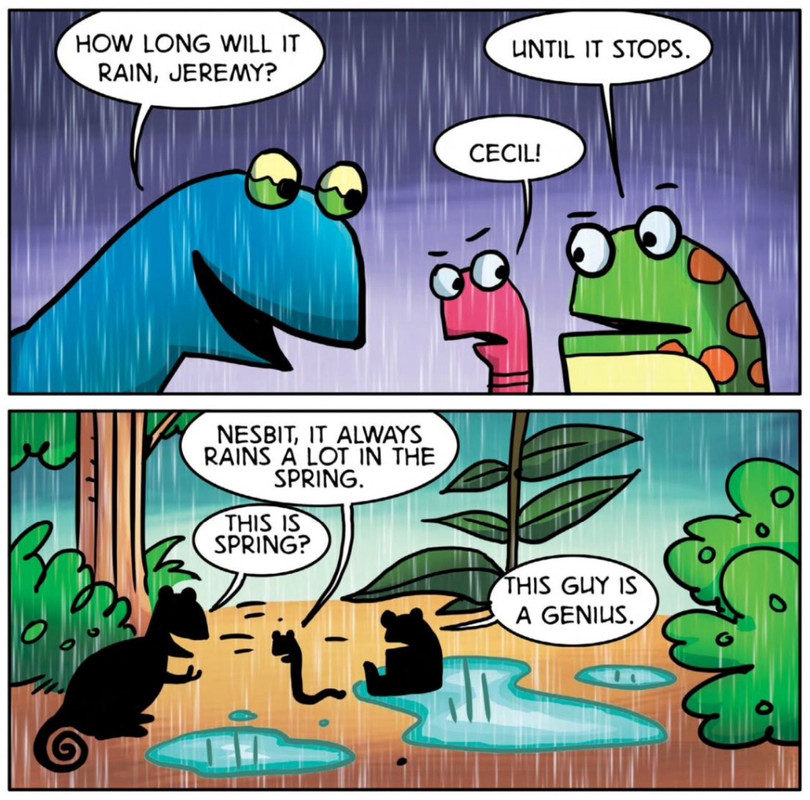 I really liked Nesbit's adorable naivety. A character with wide eyed awe at all of the new things they're experiencing was a lovely addition to the story.
Favourite bit:
"Pardon me. I thought you were lunch, but you're a friend."

Nesbit to Evelyn
Thank you so much to NetGalley and Andrews McMeel Publishing for the opportunity to read this graphic novel.
Once Upon a Blurb
It's springtime at Cecil's Pond and everything is coming alive: the flowers, grasses, insects, and butterflies. The marsh around the pond is all in bloom. Poor Nesbit (the chameleon) is overwhelmed by it all. He sees all the change as unsettling chaos!
Nesbit grew up in a pet store before moving to the pond. He has no idea what it's like to live in the wild or where he fits in the chain of life. Cecil and his pond pals will have to help Nesbit along on his journey of self-discovery.