Illustrations – Nick East
☠️ Ahoy, me mateys! ☠️
I discovered Knock Knock Pirate after devouring Caryl Hart's The Invincibles series. My local library had this one as well and of course I was going to request a copy because, well, pirates!
What an imaginative counting book! With great rhymes and plenty of pirates to count, our young main character (whose name is not Jim) is Home Alone when a posse of pirates take control of her house and sail it down the street and across the seven seas in search of treasure. I'm extremely impressed by the buoyancy of this home! Along the way the house-ship and its quirky sailors encounter some awesome marine life including a giant whale, giant squid and a group of sharks that look mighty hungry!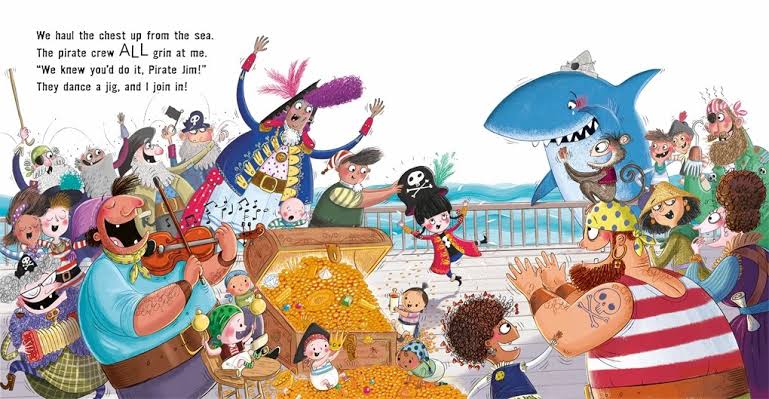 Nick East's illustrations are funny and detailed. They compliment the rhymes so well and there's just so much to see. I really liked the three granny pirates who arrive in style – wearing shawls while perched on top of cannonballs that crash through the roof.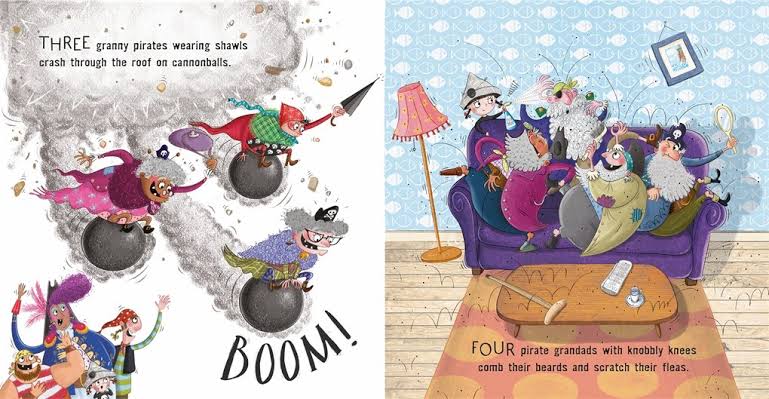 From the other items visible in her treasure chest of costumes it's clear this isn't the first adventure this young girl has taken!
Once Upon a Blurb
A visit from a pirate might sound like fun … but when the Captain's whole crew turn up too – causing mayhem and chaos – it's time for this little girl to panic. What is Dad going to say when he gets home?!