This is one of those super quick (about five minutes) and quirky reads. John Atkinson summarises classic novels in a few words, with each entry accompanied by an illustration or two.
I found I enjoyed the summaries if I'd read the book referenced already or at least knew the basics of the story. For those classics included where I wasn't already familiar with the plot I found myself thinking some variation of 'Oh, okay' or 'I don't get it'.
My favourites summaries are: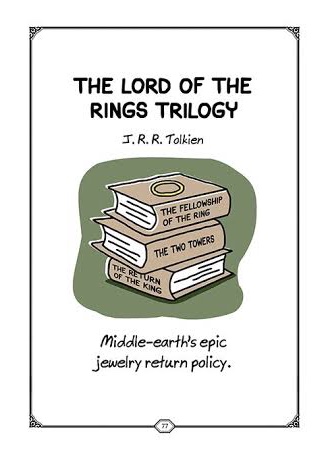 The Handmaid's Tale – An oppressive patriarchy controls women's bodies. This book is also about that.
Charlotte's Web – Clever web designer saves a pig.
I borrowed this book from my library (I love my library). I can imagine people buying this as a gift book. I'd already read many of the entries online though and while I'm glad I read the book I won't be buying it.
Once Upon a Blurb
A collection of irreverent summations of more than 100 well-known works of literature, from Anna Karenina to Wuthering Heights, cleverly described in the fewest words possible and accompanied with funny color illustrations.
Abridged Classics: Brief Summaries of Books You Were Supposed to Read but Probably Didn't is packed with dozens of humorous super-condensed summations of some of the most famous works of literature from many of the world's most revered authors, including William Shakespeare, Charles Dickens, Emily Brontë, Leo Tolstoy, Jane Austen, Mark Twain, J.R.R. Tolkien, Margaret Atwood, James Joyce, Plato, Ernest Hemingway, Dan Brown, Ayn Rand, and Herman Melville.
From "Old ladies convince a guy to ruin Scotland" (Macbeth) to "Everyone is sad. It snows." (War and Peace), these clever, humorous synopses are sure to make book lovers smile.