This was so much fun! Just what does scare Darth Vader?! Nothing has the power to scare him, or so he thinks. He's not afraid of a wolfman's bite as he's wearing armour. He's not afraid of a vampire, a ghost (no, it's not the ghost of Obi-Wan Kenobi), or a witch. I loved his deadpan responses, especially to the question of whether he's afraid of the dark.
"Is that a joke?"
I love villains and have a soft spot for this one. I admit I felt bad for Darth Vader when he talks about being cursed and looks so dejected.
I loved the illustrations, particularly the delightful ghost and the way Darth Vader's feelings were expressed through his posture.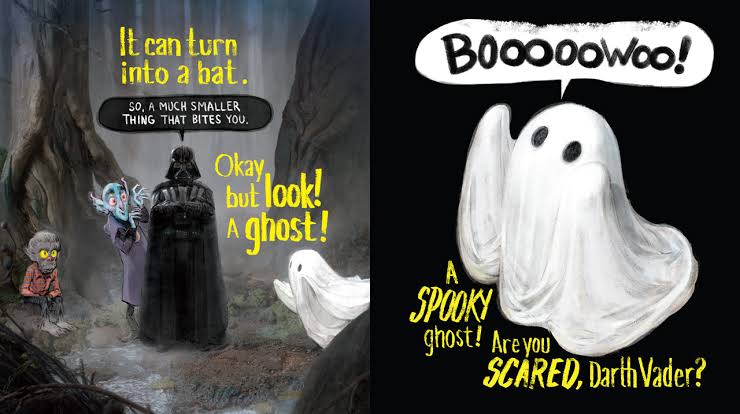 The narrator's words are yellow, which stand out well against the greyscale backgrounds. Darth Vader's responses are in black speech bubbles, not that you'd expect any other colour. The various monsters and other characters are detailed and realistic.
I especially liked the Death Star cameo and the design on the inside of the front and back covers. I'm sure someone will correct me if I'm wrong but it looked to me like a combination of Stormtroopers, TIE Fighters and the Galactic Empire symbol.
I enjoyed the twist at the end and want to read it again. I expect this to be a popular read for Star Wars fans, particularly around Halloween. While aimed at kids, kids at heart will also find a lot to like about this book.
Once Upon a Blurb
Darth Vader isn't scared! Nothing can scare Lord Vader. Right?