Hector's favourite place is the same as mine – home. Both of our homes have books in them so why would we want to leave?! Well, actually Hector is a worrier and that's why he's most comfortable at home. He likes to hear about his friends' news and wants to do fun things with them but there's always a 'what if' that stands in the way of him venturing into the great outdoors.
Hector knew deep down that his worries were stopping him from going and enjoying himself. He realized he had to be brave.
Hector learns that once he's outside of his comfort zone most of the things he was worried about didn't happen after all and those that did weren't as bad as he thought they'd be. Hector becomes more confident, knowing he can have fun with his friends, and looks forward to spending more time with them. I'm looking forward to spending more time with my books, but that's not the point.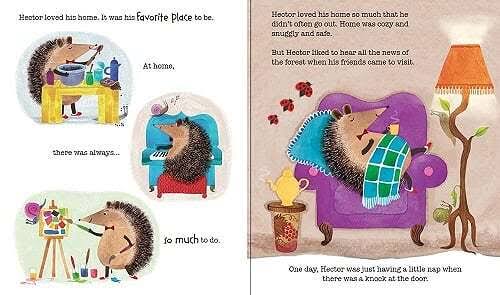 The illustrations are cute and by using animals rather than people to tell the story I was more engaged. I love books that help kids gain confidence and hope this story helps some worriers to be brave like Hector.
At the end of the story there are 'Notes to Parents, Caregivers, and Professionals'. This was a highlight for me as it includes practical tools for adults who are in a position to make a positive impact on anxious children. Information is provided under the following headings:
Address the worry (if you can)
Model and practice
Try something new
Resist reassurance seeking
Praise effort and bravery, and
Seek support.
Thank you very much to NetGalley and Magination Press, an imprint of the American Psychological Association, for the opportunity to read this book.
Once Upon a Blurb
Hector loves his home! It's comfy, snuggly, and safe. But sometimes Hector relies on the safety of his home too much – he's invited to play outside with his friends, but he worries about the potential problems he might encounter. Soon Hector realizes that his worries are keeping him from enjoying himself, so he needs to learn to be brave and try new things. Includes a "Note to Parents and Caregivers" about encouraging kids to step outside their comfort zones.