Story Adapter – Crystal S. Chan
Illustrations – SunNeko Lee
Jane Eyre was one of my Nan's favourite books so I have intended to read it for the past 30 years. Over the years I've tried and failed to make it past Jane's childhood. I was so mad at the way she was treated, especially by Mrs Reed and John, and when I finally made it to the beginning of her time at Lowood I was so infuriated by the injustice of her life that I discarded this story and moved on to something else; probably something with unicorns.
Now I've finally learned the rest of the story thanks to manga! While I'm not the hugest fan of Jane's story due to my romantiphobia (I would like to think that had I been in Jane's shoes I would have bailed on both potential suitors and enjoyed my life as an independent single woman) I was engaged in her story from beginning to end. I appreciated Jane's strong will and independent spirit, especially considering the adversity she faced, and I think it was Jane's perseverance that would have drawn my Nan to this story.
I adored the illustrations in this book, although Jane's gorgeous doe eyes made it difficult to take her seriously when she spoke of her plain looks. I loved that, in true manga style, this story reads from right to left and was surprised by how quickly I became used to reading this way.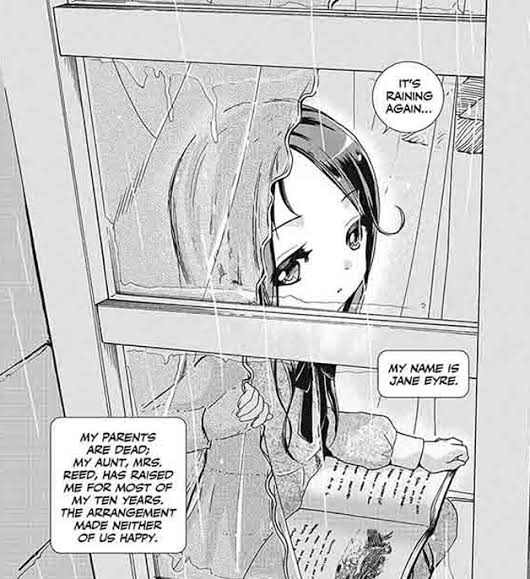 Content warnings include abuse, suicide and mental illness.
Thank you to NetGalley and UDON Entertainment for the opportunity to read this book. I'm all doe eyes for manga right now and want to work my way through the rest of their Manga Classics series.
Once Upon a Blurb
As an orphaned child, Jane Eyre is first cruelly abused by her aunt, then cast out and sent to a charity school. Though she meets with further abuse, she receives an education, and eventually takes a job as a governess at the estate of Edward Rochester. Jane and Rochester begin to bond, but his dark moods trouble her. When Jane uncovers the terrible secret Rochester has been hiding, she flees and finds temporary refuge at the home of St. John Rivers.