I need to just CHILLAX and stop WHINING about how AWFUL my life is (when in reality I'm actually very lucky)!
Exactly. Nikki has a loving family, two incredibly supportive best friends, a crush (who's a sweetheart) who likes her back, and her band is going on tour as the opening act for a boy band. Life's pretty sweet, right?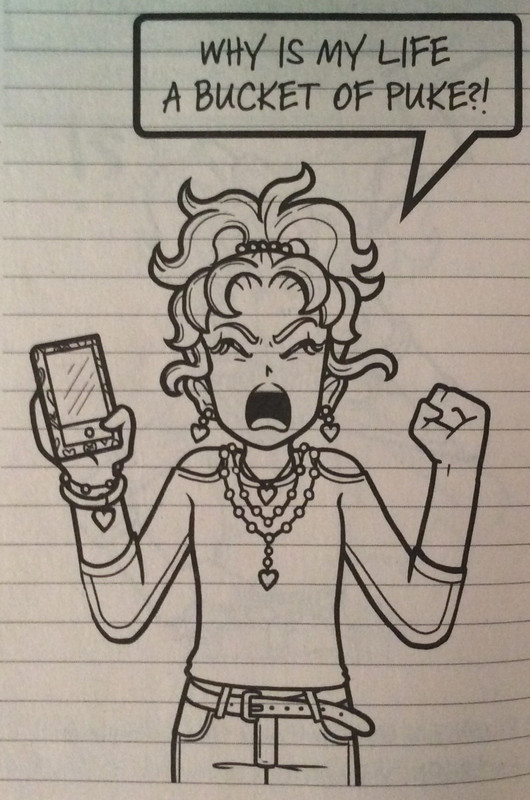 Okay, so maybe not …
Nikki is essentially the queen of catastrophic thinking at this point. Everything is the end of the world … until it suddenly all works out. I decided while reading the last book that I was done with this series but caved when I saw my library had purchased this one. I'm really done now. There's still no character development and the sweet dork I met in the beginning of the series now only irritates me each time she complains about her charmed life.
There are plenty of quizzes scattered through this book to help you figure out which of the boy band members is for you. I loved these types of quizzes growing up and imagine a lot of readers will be marking their answers in the book. I'm not exactly sure why you'd want a boy band member choosing your prom dress or the colour of your lip gloss, but each to their own, I guess.
This series has a really passionate fan base and if it had been published when I was growing up I probably would still be part of the hype. Unfortunately it's not the series I initially loved, and hasn't been for a few books now, so it's time for Nikki and I to part ways. I mean it this time!
And OMG! I've been through SO much DRAMA, it feels like my HEAD is going to EXPLODE into a glittery shower of FIREWORKS!!
Once Upon a Blurb
Nikki and her bandmates are looking forward to an AWESOME summer on tour as the opening act for the world famous Bad Boyz! Nikki is a little worried when her frenemy, MacKenzie Hollister, weasels her way on to the tour. But she has a total MELTDOWN when she learns that MacKenzie is her new roommate! Will Nikki survive her dream tour turning into a nightmare?!