I made faces like the faces on the rocks, and I twisted myself about like the twisted ones, and I lay down flat on the ground like the dead ones.
I've been trying to get my hands on this book for ten months and I couldn't wait to enjoy the creepy. Unfortunately the gap between my expectation and reality turned into a chasm and I still don't entirely know what went wrong.
Melissa (but you can call her Mouse) is about to undertake the potentially icky and smelly task of clearing out her grandmother's house. Grandma, who Mouse hasn't seen since she was seven, probably should have been nominated for Hoarders but no one really knew how bad the house had gotten.
Mouse could have said she wasn't in the market for a creepy doll collection or a leaning tower of newspapers but her father asked for her help and in Mouse's family people don't make a habit of asking anyone for anything, so when they do she tends to say 'yes'.
So, here she is in North Carolina with Bongo, her redbone coonhound, who forgot to get in line when they were handing out brains. He's adorable and faithful but not exactly guard dog material.
Bongo is an excellent watchdog, by which I mean that he will watch very alertly as the serial killer breaks into the house and skins me.
It turns out that Mouse and her family weren't the only ones to find Grandma detestable. Just ask the Goth barista girl, Frank at the dump, Officer Bob, or Grandma's neighbours, Tomas, Foxy and Skip. Then there was poor Cotgrave, Grandma's second husband, who died nineteen years ago.
It turns out there are "Nasty things out and about" and Cotgrave wrote about them.
"I bet it's aliens," I told Bongo. "It's always aliens."
Hidden somewhere in Grandma's hoard could be the answers to what's going on in the woods behind the house. Sure, Mouse could ditch the hunt and the clean up; she could tell her father it's too big of a job and never have to deal with any of it again. But then again, she's an editor and there's a book involved.
it's killing you to think there's a weird book hidden somewhere and you might not get to read it.
Mouse and Bongo wind up involved in something that's on "the far side of impossible".
I find it almost impossible to believe that I didn't fall in love with this book but that's where we are. At page 80 I was wondering when the story was really going to begin. By page 180 I was only continuing to read because Seanan McGuire loved it and she's my favourite author, so therefore I assume I must automatically love what she does.
On page 305 I was so glad that something besides taking trash to the dump and walking in the woods was happening (yes, this is an exaggeration but I was so bored up until that point that it's how I felt). I can't believe a book that was supposed to be scary was making me want to clean my house, just so I could feel like I was accomplishing something.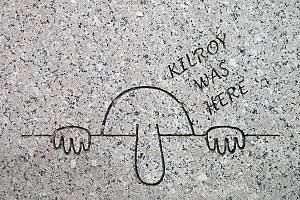 I hate that I didn't experience this book the same way all of the reviewers who have given it ⭐️⭐️⭐️⭐️⭐️ did. I had planned on being one of them. I don't know if it would have helped or hindered my enjoyment of this book if I'd read Arthur Machen's The White People first. It's the book referenced in the author's acknowledgements, where they confirm The Twisted Ones is "in dialogue with a letter written about a short story that was itself about a book …"
I want to read another book by this author because I'm convinced my failure to love this book is somehow about me, not the book.
Once Upon a Blurb
When a young woman clears out her deceased grandmother's home in rural North Carolina, she finds long-hidden secrets about a strange colony of beings in the woods.
When Mouse's dad asks her to clean out her dead grandmother's house, she says yes. After all, how bad could it be?
Answer: pretty bad. Grandma was a hoarder, and her house is stuffed with useless rubbish. That would be horrific enough, but there's more – Mouse stumbles across her step-grandfather's journal, which at first seems to be filled with nonsensical rants … until Mouse encounters some of the terrifying things he described for herself.
Alone in the woods with her dog, Mouse finds herself face to face with a series of impossible terrors – because sometimes the things that go bump in the night are real, and they're looking for you. And if she doesn't face them head on, she might not survive to tell the tale.