I've been fascinated by anything that glows in the dark since I was a child so when I first heard of bioluminescence I was enthralled. Even now I react with childlike wonder whenever I see sea sparkle photos.
The word bioluminescence is made up of two parts – bio, which means "living thing" and luminescence, which means "light" – so, living light.
This book provides some fun facts about twenty living lights:
Dinoflagellates
Velvet Belly Lanternshark
Gulper Eel
Anglerfish
Lanternfish
Shortnose Greeneye Fish
Hatchetfish
Firefly Squid
Glass Squid
Bioluminescent Octopus
Atolla Jellyfish
Crystal Jelly
Lined Seahorse
Bloodybelly Comb Jelly
Bobtail Squid
Giant Clam
Long-Armed Brittle Star
Midwater Jellyfish
Sea Pen
Sea Slug
Although they're not officially one of the twenty, pyrosome, "the unicorn of the sea", were also mentioned. I had to look them up because they sounded so interesting. (More info here)
Some of the facts were really interesting.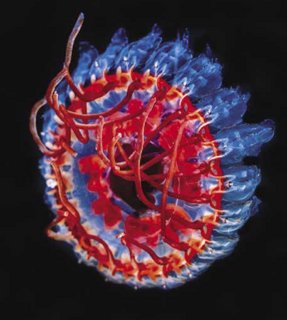 The Atolla uses its light to attract predators rather than chase them off. It is nicknamed the "alarm jelly" because when threatened, the Atolla flashes blue, bioluminescent light around its ring, like a police siren. It can project its light as far as 300 feet (91 m). When it flashes, curious larger predators come sniffing around and are drawn to the predator that was stalking the jelly.
Others were nightmare fuel.
As a young fish, the male latches onto a female anglerfish like a parasite. After the male digs his sharp teeth into the female, its mouth releases a special chemical that sort of melts her flesh. Over time, the male's body joins with the female, and he loses all of his internal organs except for his reproductive organs. A female anglerfish can carry more than six males on her body!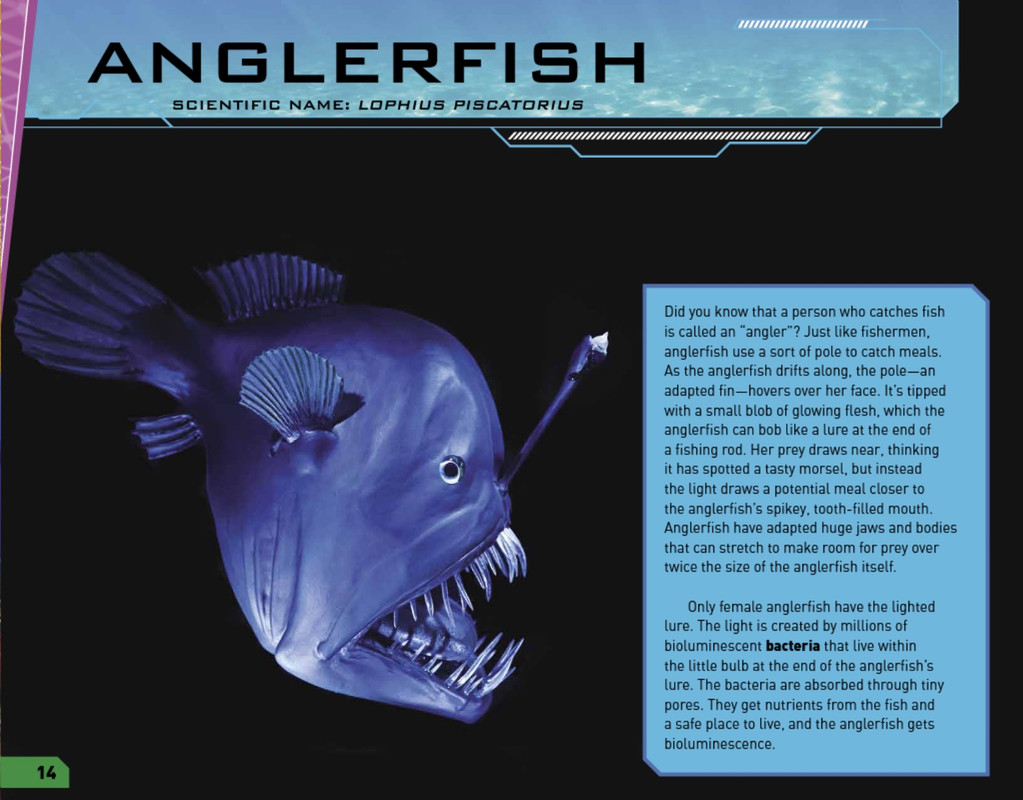 Stats provide facts about the length of each sea creature and their diet, as well as the depth and parts of the ocean they are found. Readers will be able to easily visualise the length of each creature because they're compared to objects like soda cans, baseballs and ice creams. There is a glossary at the end of the book.
As a child I would have probably only used this book for a school project. Adult me loves all of the photos and fun facts. As I'm getting older I'm finding that I'm paying more attention to the beauty that surrounds me. Being able to read little tidbits about different plants and animals only adds to my awe of nature. There are quite a few sea creatures included in this book that I need to learn more about.
Thank you so much to NetGalley and becker&mayer! kids, an imprint of Quarto Publishing Group, for the opportunity to read this book.
Once Upon a Blurb
Some ocean animals have the incredible ability to make their own light! Amazing World: Sea Creatures shows off twenty of these unique animals with facts and photos.
From the lanternfish, to the Atolla jellyfish, to the glowing bioluminescent octopus, the ocean is filled with animals that gleam and glow. Go on an electrifying journey to see how these living lights use bioluminescence, fluorescence, and symbiotic bacteria to light up! Amazing World: Sea Creatures reveals the fascinating lives of strange and amazing marine animals.
This beautifully illustrated and photographed book for kids explores twenty incredible creatures you'll only find under the sea. You will learn how each of these underwater animals create their own light, and how they put it to good use. Is that wasn't enough, Amazing World: Sea Creatures even includes a sheet of glow in the dark stickers!
You won't believe all the cool, beautiful, and sometimes downright weird animals that live under the ocean. They're not aliens; they're sea creatures!