This collection begins with Marigold and Phoebe attending the unveiling of their brand new clubhouse, which wouldn't be complete if they weren't pixie punked. Now the clubhouse is finished, all they need to do is figure out what kind of club they are.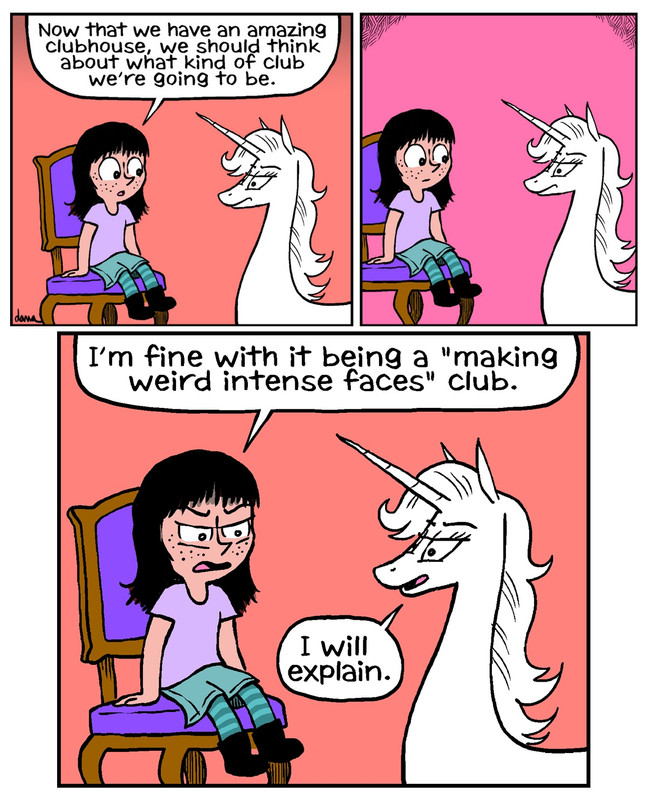 A good portion of this collection focuses on Marigold preparing for and attending her family reunion. Phoebe and Marigold attend the reunion in style because unicorn and once there Marigold catches up with some familiar faces. She also meets some of her family for the first time.
When the reunion is not the focus, Marigold makes Phoebe's problems disappear and Phoebe helps Marigold with her self help book. Marigold's shadow goes to the dark side and a conspiracy theory is tested.
In keeping with the honour that is being Marigold's best friend, Marigold bestows upon Phoebe her unicorn name. This is also the collection where we learn the number 5 is a dragon called Jim who "rains death from above".
Phoebe's powers of observation are called into question.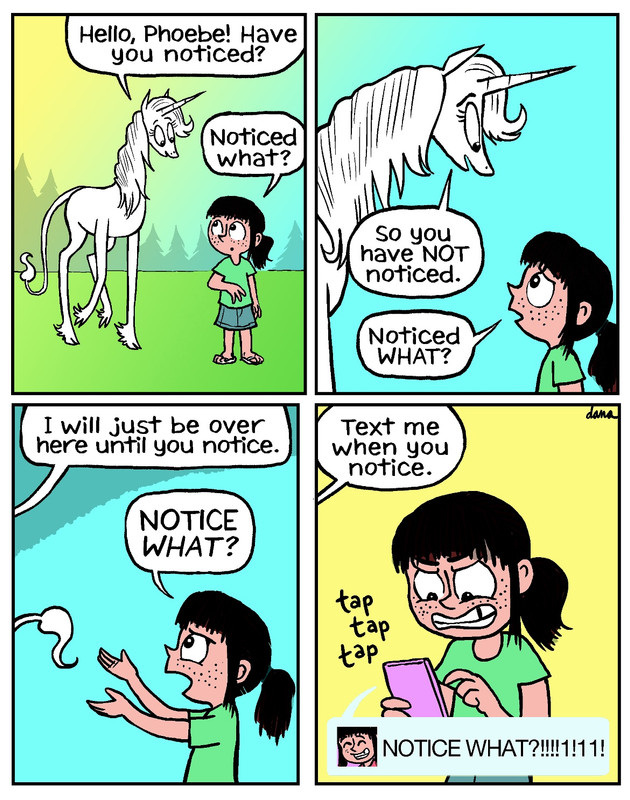 More than once.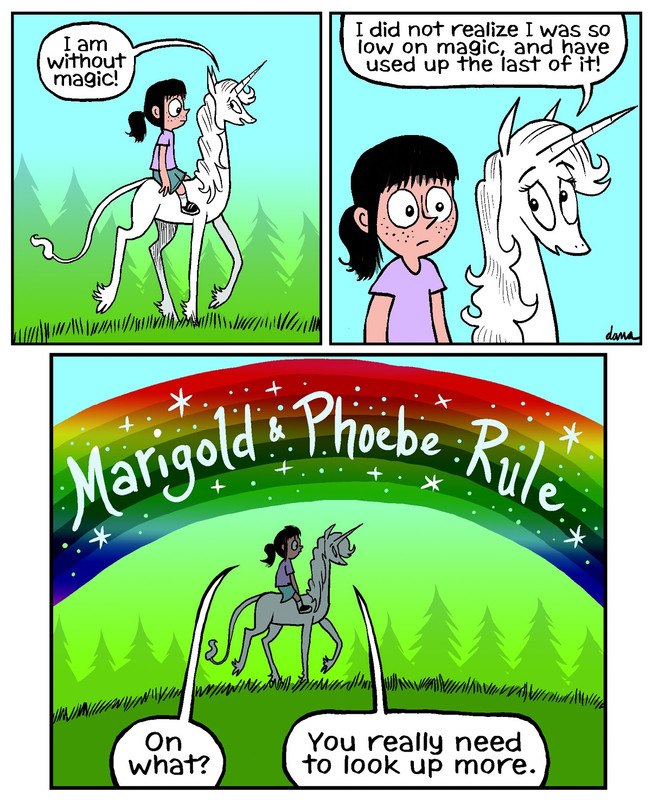 Because so much time was spent in the lead up to and attendance of Marigold's family reunion, there wasn't quite as much variety in this collection. I enjoyed finally getting to meet more of Marigold's family but I missed Dakota, who was only mentioned in passing. Max also only had a small part to play.
I always enjoy hanging out with Marigold and Phoebe, "knower of unicorn secrets". I'm looking forward to the next collection already.
Book in a book: Phoebe reads The Neverending Story. I also attempted to read this as a nine year old but couldn't understand at the time why the book didn't replicate the movie exactly, not realising the book came first. Note to self: finish reading The Neverending Story.
Thank you so much to NetGalley and Andrews McMeel Publishing for the opportunity to read this graphic novel.
Once Upon a Blurb
Phoebe Howell and her best friend, the dazzling unicorn Marigold Heavenly Nostrils, have all kinds of exciting things planned for the summer. Their adventures include constructing a secret clubhouse with Phoebe's friend Max (enlisting the help of some magic pixies along the way) and preparing for a trip to Marigold's unicorn family reunion. Along the way, readers will meet all kinds of new characters, learn what magic spells are best avoided, and have all kinds of sparkling unicorn fun.