Story Adapter – Crystal S. Chan
Illustrations – SunNeko Lee
The Manga Classics series was my introduction to manga. I decided I loved it immediately but it still always surprises me how much I enjoy the format each time I delve into another one.
This manga tackles Les Misérables, whose story I previously knew from the 2012 movie starring Hugh Jackman, Russell Crowe and Anne Hathaway. Because this story is so well known, my knowledge of it even before I saw the movie felt fairly complete, as though I'd absorbed it by osmosis. Needless to say, the story needs no introduction.
I really enjoyed the illustrations in this manga. Fantine and Cosette with doe eyes are absolutely adorable.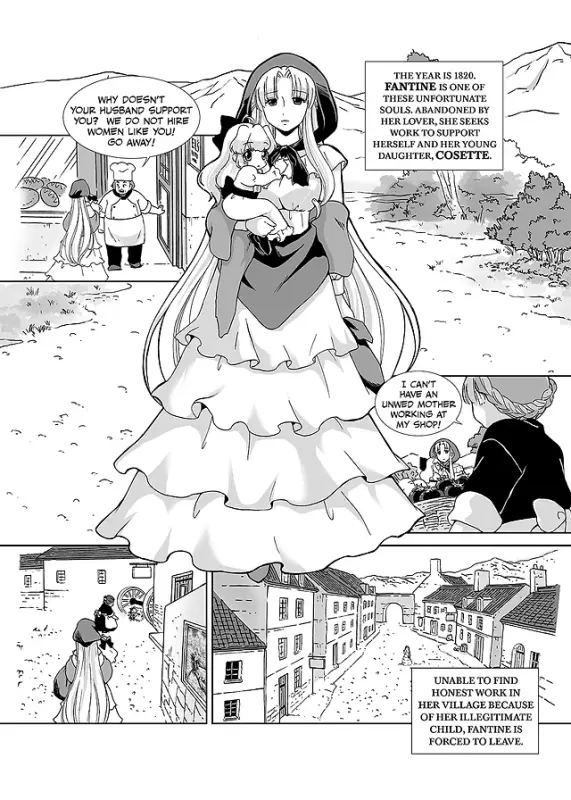 The story was easy to follow and the characters were expressive, making it easy to read the emotion of each scene. I'm keen to read more Manga Classics.
Thank you to NetGalley and UDON Entertainment for the opportunity to read this book.
Once Upon a Blurb
Victor Hugo's classic novel of love and tragedy during the French Revolution is reborn in this fantastic new manga adaptation by Crystal S. Chan! In 19th-century France, Jean Valjean, who for decades has been hunted by the ruthless policeman Javert after breaking parole, agrees to care for a factory worker's daughter. The decision changes their lives forever. "Les Mis" has been adapted for stage and screen, and loved around the world by millions of readers. The gorgeous art of SunNeko Lee brings to life the tragic stories of Jean Valjean, Inspector Javert, and the beautiful Fantine, in this epic Manga Classics production of Les Misérables!