Illustrations – Jelena Đorđević
We meet Kellyn West in a graveyard. She's a social media influencer doing a livestream when Clay Coogan decides it's time for her viewers see what her insides look like.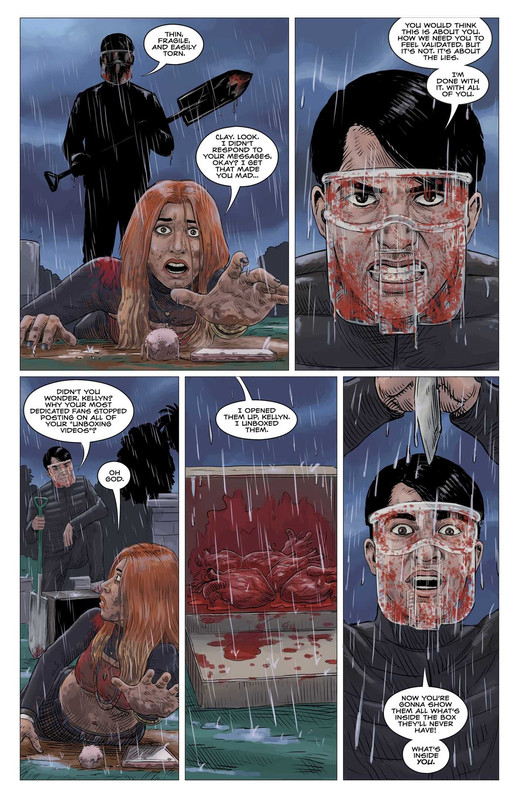 Maybe if Clay wasn't so verbose, he would have finished the job before Detective Olivia Hubbard arrived.
"I … I'm the dreaded creature, gliding beneath the water, hidden behind tints of azure."
Um…
"They'll put a box in a box in that box, and none of it will matter."
Oh, just die already, Clay!
End flashback.
Clay has been classified as a Sequel Killer because, you know, they never stay dead! Kellyn has been awarded a designation of E.V. (Endemic Victim) and a place in the Endemic Victim Protection Program. She's on her way to Sacred Lamb, not that that sounds ominous or anything.
There she meets such famous E.V.'s as Bambi Mondale and the Babysitter. They're not all thrilled to be getting a new neighbour.
"You're weak. You'll break. You may be safer here. But we aren't safe from you."
To be fair, the bloodshed does begin fairly soon after Kellyn's arrival.
In theory, having a bunch of E.V.'s living in the same town is supposed to keep everyone safe. In reality, if you're planning on going on a final girl rampage, Sacred Lamb is the ideal destination. I'm only surprised it took forty years for the carnage to arrive at Sacred Lamb.
"… There's nothing to see here."
I love slashers and was hoping for The Final Girl Support Group vibes. I really liked the concept and the story had a strong start.
I expected to get even more into the story once the blood started to spill but instead it lost me. Thanks to group therapy, we learn the backstories of some of the other final girls but I didn't connect with anyone in particular.
Thank you so much to NetGalley and TKO Studios for the opportunity to read this graphic novel.
Once Upon a Blurb
A meta-horror story about survival, obsession, men, women, and chainsaws.
Sacred Lamb is a secret town where the survivors of endemic slasher killers (think real-world Jason Vorhees, Michael Myers, Freddy Krueger) reside in a 'witness protection' to stop innocent people from being murdered when the inevitable 'sequel' occurs and the slasher returns from the dead.
Social media influencer Kellyn West, who just recently dispatched "her" own slasher killer Clay Coogan on a live stream, is the newest resident. Feeling more locked away than protected behind the barbed wire fenced-in town, where the government has hidden away these E.V.s ("Endemic Victims") since the slasher spree started in the 1970s, Kellyn has to team with an old woman, and the original Survivor Girl, known only as "The Babysitter" to rally the EVes and survive as an army of slashers start showing up, seemingly back from the dead, and back for blood.