'If I could say it in words,' explained the twentieth-century American artist Edward Hopper, 'there would be no reason to paint.'
I'm absolutely obsessed with everything bookish but my art literacy leaves a lot to be desired. I love a lot of art. As someone whose stick figures don't exactly resemble stick figures, I'm in awe of artists. Despite this, I don't tend to really 'get' art.
This book focuses on "the oddities, the forgotten, the freakish, all with stories that offer glimpses of the lives of their creators and their eras." It includes fertility art, doom paintings, revenge art and some artists sneaking portraits of themselves in paintings. There's a lot of religious inspired art.
Two fun facts and a word of warning…
One of the funniest finds was an Italian fresco created in 1265. It's called lbero della Fecondità. It's otherwise known as the penis tree. The restorers swear they didn't erase any testicles.
Restorations of Leonardo da Vinci's The Last Supper have been undertaken since 1726. Currently only 42.5% is Leonardo's work, 17.5% has been lost and 40% is the work of restorers.
It's important to use a trusted restorer, unless you're looking for results like Ecce Homo.
I didn't get a lot of the art in this book but there were some I particularly liked, including:
🎨 Pere Borrell del Caso's Escaping Criticism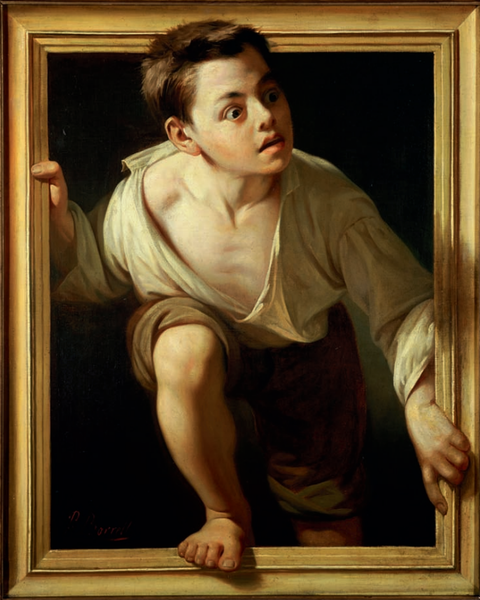 🎨 Giovanni Battista Piranesi's The Drawbridge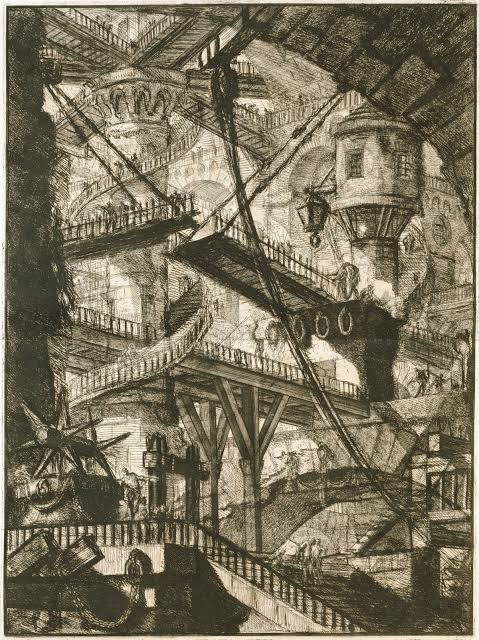 🎨 All of Franz Xaver Messerschmid's Character Heads. This is The Yawn.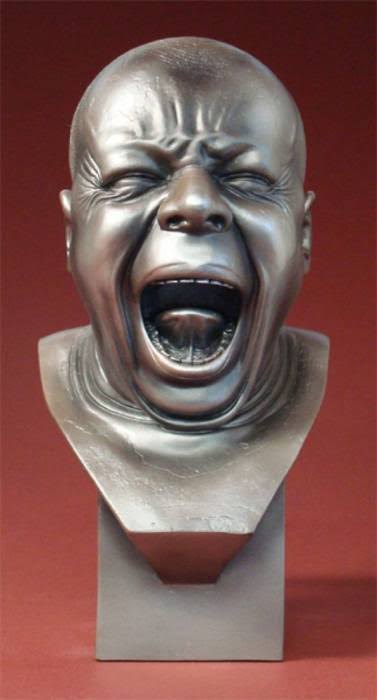 This book confirmed that my weird threshold is pretty high. I expected the artwork to be weirder. I really enjoyed the first half of this book but it didn't keep my interest as much when it made it to more contemporary art.
I may not be obsessed about this book like I was with The Madman's Library but I'm glad I read it. It's piqued my interest enough to order more of the author's books from the library.
Once Upon a Blurb
Enter The Madman's Gallery – the perfect gift book for any art lover. Discover an eccentric exploration through the curious history of art, to find the strangest paintings, sculptures, drawings and other artistic oddities ever made.
Obscure and forgotten treasures sit alongside famous masterpieces with secret stories to tell. Here are Doom paintings, screaming sculptures, magical manuscripts, impossible architecture, dog-headed saints, angel musketeers and the first portrait of a cannibal. Stolen art, outsider art, ghost art, revenge art, and art painted at the bottom of the sea take their place alongside scandalous art, forgeries and hoaxes, art of dreams and nightmares, and cryptic paintings yet to be decoded. Discover the remarkable Elizabethan portraits of men in flames, the mystery of the nude Mona Lisa, the gruesome ingredients of lost pigments, the werewolf legion of the Roman army, and the Italian monk who levitated so often he's recognised as the patron saint of aeroplane passengers.
From prehistoric cave art to portraits painted by artificial intelligence, The Madman's Gallery draws on a remarkable depth of research and variety of images to form a book that surprises at every turn, and ultimately serves to celebrate the endless power and creativity of human imagination.