It's a given that whenever Seanan McGuire contributes a story to an anthology I'll be reading it but, in my experience, anthologies themselves can be a bit hit or miss. This anthology promises stories that "reanimate, reimagine, subvert, and pay homage" to monsters you already know and love.
Classic Monsters Unleashed includes twenty nine (!) stories and one poem, featuring Dracula, the Mummy, the Invisible Man and so many other favourites. Basically, it was destined to wind up on my TBR pile.
If I can say I liked half of the contributions in an anthology I usually call that a win. Having thoroughly enjoyed over three quarters of the monstrous fun on offer here, it's safe to say this is one of my favourite anthologies to date.
I tried to come up with a list of my top five reads but am happy to report that I failed. So, the six I loved the most, listed in the order I read them because it sounds too much like hard work to rank them, are:
Höllenlegion by Jonathan Maberry
Unleashes Dr. Moreau
"What you are planning is madness"
Old Monsters Never Die by Tim Waggoner
Unleashes a character inspired by the Wolfman
"I've come to do something much worse."
The Viscount and the Phantom by Lucy A. Snyder
Unleashes Phantom of the Opera
"The Palais Garnier presents a unique opportunity for a young gentleman of your tastes."
Modern Monsters by Monique Snyman
Unleashes a character inspired by The Fly
"I hope you're ready to see something spectacular"
Hacking the Horseman's Code by Lisa Morton
Unleashes Headless Horseman
What? It isn't supposed to do that.
"Can" Doesn't Mean "Should" by Seanan McGuire
Unleashes Mad Scientist
We're the children of the laughter and the lightning, and we exist in the pause between "can" and "should".
Because I read an advanced copy I haven't seen all of the illustrations that will be included in the final version yet. What I have seen, though, are absolutely incredible! I want framed copies of all of them, but none more than Mister Sam Shearon's Frankenstein's Monster.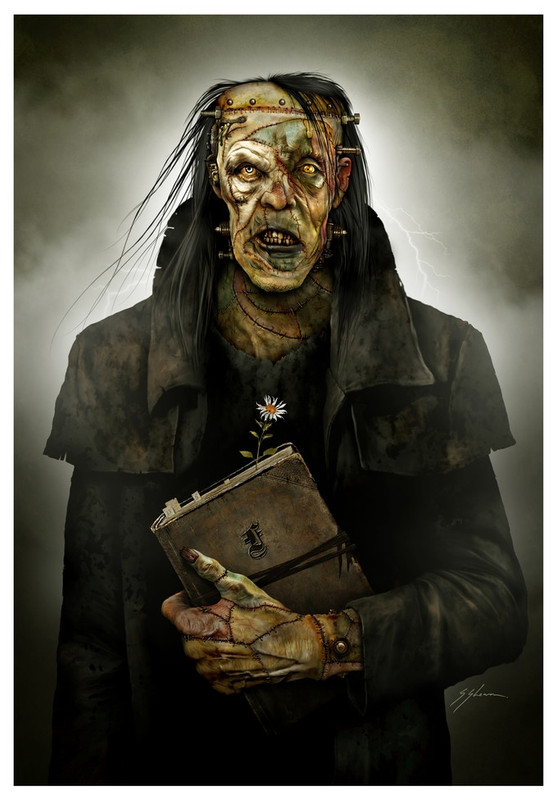 My aimless wandering has resulted in me accidentally discovering there's going to be another Unleashed anthology. There's currently a Kickstarter for … wait for it … Shakespeare Unleashed! I definitely need this in my life.
Thank you so much to NetGalley, Crystal Lake Publishing and Black Spot Books for the opportunity to read this anthology.
Once Upon a Blurb
Stories of famous monsters in a new horror anthology edited by James Aquilone and featuring Joe R. Lansdale, F. Paul Wilson, Jonathan Maberry, Ramsey Campbell, and many others.
Dracula, Frankenstein's Monster, the Bride of Frankenstein, Dr. Jekyll and Mr. Hyde, Dr. Moreau, the Headless Horseman, the Invisible Man, the Phantom of the Opera, the Wicked Witch of the West – they're all here, in this collection of horror short stories that reimagine, subvert, and pay homage to our favourite monsters and creatures.
Written by the biggest names in the genre – including Joe R. Lansdale, F. Paul Wilson, Jonathan Maberry, Ramsey Campbell, Lisa Morton, Owl Goingback, Richard Christian Matheson, Seanan McGuire, Maurice Broaddus, Dacre Stoker, Linda D. Addison, Alessandro Manzetti, Tim Waggoner, John Palisano, Mercedes M. Yardley, Lucy A. Snyder, Gary A. Braunbeck, Rena Mason, and Monique Snyman.
And monstrously illustrated by Colton Worley and Mister Sam Shearon.