Tonight is Sterling Marsh's final shift as sheriff. She really should have called in sick and left Drybell for the evening, preferably before the truck crashed into the bridge. Sterling and her colleagues being cut off from the outside world in the middle of one of the worst storms in Drybell's history isn't their biggest problem. They now also have a troublesome witch to deal with.
There's no such thing as witches.
The bulk of the evening takes place inside the sheriff's station with the witch in custody so you wouldn't think she'd have much opportunity to create a ruckus. You'd be wrong. Sterling, Chase, her deputy, Georgia, the receptionist, Rosa, the dispatcher and Max, Chase's seven year old son, are about to have one of the longest nights of their life.
"I've got a bad feeling about this night"
This witch looks like something out of a fairytale, donning a black dress and pointy hat. She smells sweet, but she's anything but.
Although it was clear based on results that she was actually doing quite a bit, she spent most of the book impersonating a statue. Part of me was fascinated by this, wondering what she'd be capable of once she started moving, but frustration took over more often than not. When I'm enjoying horror that includes people's insides becoming their outsides, my preference is for it to be as over the top as possible.
The witch's backstory didn't work for me and the ending felt rushed.
If I'd visited Drybell before the shemozzle started, I definitely would have spent some time at Hallowed Grounds Coffee.
The cover image is absolutely incredible. There are illustrations scattered throughout the book, which I loved. Although there were some wonderfully dark ones featuring the witch, my favourite was the creepy snowman.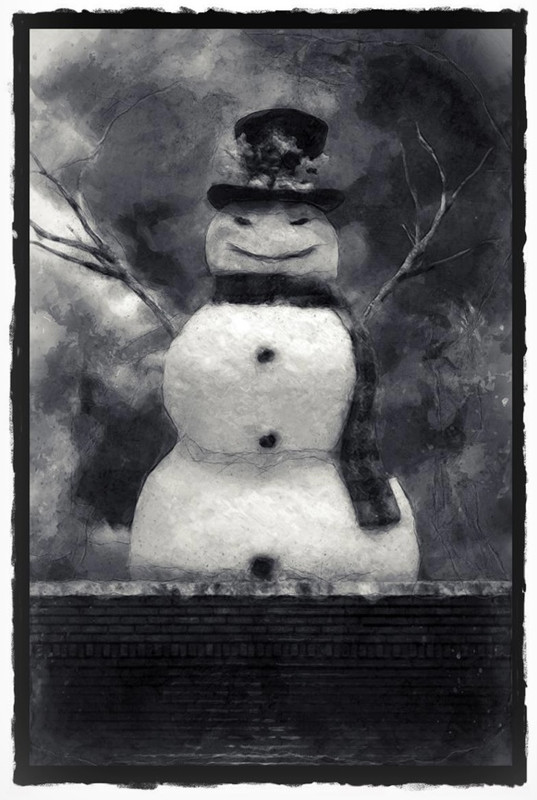 Content warnings include death by suicide and domestic abuse. Readers with emetophobia may have trouble with some scenes.
Thank you so much to NetGalley and Oblivion Publishing for the opportunity to read this book.
Once Upon a Blurb
On the eve of her resignation, Sheriff Sterling Marsh prepares for a bleak winter in Drybell, Connecticut, after a string of bad decisions leaves her life in shambles. Two weeks before Christmas and expecting a long night of paperwork and quiet celebration with the friends she's grown to know and love, she's surprised when an unnerving stranger appears in the form of a witch. 
A silent, menacing figure, the witch appears to be ripped straight out of a fairy tale, complete with a tall, pointed hat, and black clothing. But when strange things begin happening all over town, Sterling begins to suspect that there may be more to the witch than meets the eye.
As she works to maintain order as the world crumbles around her, the witch's mysterious presence throws her world into a frenzy, threatening to send the sleepy town spiralling face first into the darkest night it's ever seen.