Illustrations – Alea Marley
I had hoped this would be a book I could recommend to psychologist friends for use with their younger clients experiencing separation anxiety or grief. Based on the blurb I expected Everybody's Somewhere to be focused on bereavement or to be aimed toward children who may live with one parent and be missing the other, or perhaps who have a parent that has had to go away for a work trip. Given that the book was written by a social worker my assumptions were strengthened.
That's not what this book is though. It's basically saying that people are everywhere – up trees, under the stars, in cars, etc. Based on the reality of what the book is instead of what I hoped it would be, it's a cute book. It would be a nice bedtime story. The rhyming and easy words are appropriate for the young target audience.
Alea Marley has done a beautiful job with the illustrations. The colour scheme is soft and comforting. I liked the diversity of the children featured in the pictures and think children as well as adults will enjoy looking at them.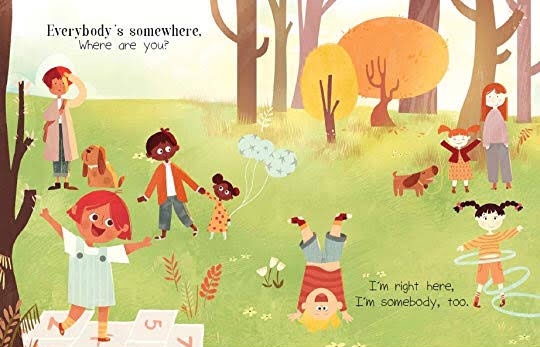 I received an ARC from NetGalley (thank you so much to NetGalley and Quarto Publishing Group – Seagrass Press for the opportunity) in exchange for honest feedback.

UPDATE: If the blurb was fixed to reflect what the author intended then the story works perfectly. I still believe this will make a lovely bedtime story that children will enjoy.
Once Upon a Blurb
Everybody's somewhere, where are you?
I'm right here, I'm somebody, too.
Some are in the country, some are in the town.
Everybody's somewhere, up or down.
Everybody — mums, dads, grandpas, grandmas, friends, and people you've never met — is somewhere in the world, doing something right now, even if you can't see them.
Everybody's Somewhere is a fun, colorful introduction to the idea that everyone you've met, or haven't met, is somewhere. Written perfectly for young minds that might not fully comprehend how big the world is, or the number of people on it, this fun children's book will plant the seeds of the ideas in their minds.
With its playful poetry, bouncy rhymes, Everybody's Somewhere asks children to expand their perspective, and follows up with fun illustrations. Award-winning author Cornelia Maude Spelman invites children to imagine other people in other places doing different things, to be delighted by new ideas, and to be reassured that everyone is important and sharing the same world.