Mr. Clutterbuck is reserved and quite boring during the day, consistently turning down offers from people to join them in fun activities. However during his sleepwalking expeditions he becomes a town hero by singlehandedly putting an end to the rivalry between two biker gangs, preventing the impending bankruptcy of the sausage factory and helping a rock band out of a rut, amongst other exciting things. Gus, Mr. Clutterbuck's faithful guinea pig, tags along to ensure Mr. Clutterbuck remains safe while he wanders around the town asleep.
Translated from Finnish by Jill Timbers, I don't know if anything was lost in the translation but if it was it didn't matter. The names of the characters are a hoot! Rip and Roar are leaders of rival biker gangs, Wally Wurst is a hippopotamus that owns a sausage factory and one of the policemen is called Constable Fuzz!
Kids are going to love hearing the jumbled words that come out of Mr. Clutterbuck's mouth when he's sleepwalking. I couldn't tell you why but Mr. Clutterbuck's voice in my head sounded exactly like Wallace from Wallace & Gromit.
Kids and adults alike will enjoy finding new things in the pictures each time they open the book, like a car on a roof or a snake playing drums in a rock band. Even if you had no interest in this book based on the story I'd still recommend it for the illustrations alone. They're detailed, quirky, funny and the animals are fantastic!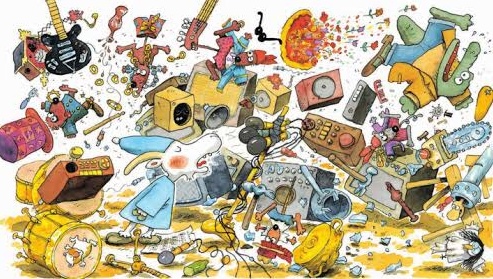 I've already spent a lot of time looking closely at all of the pictures to try and ensure I haven't missed anything but even so I'm sure I have. There's just so much to look at! Keep your eye out for the cutest fuzzy little spider with a top hat and cane in the majority of illustrations, adorable bats, and the spoon thief who's lurking around throughout the book.
Thank you so much to NetGalley and Archipelago Books for the opportunity to read this book.
Once Upon a Blurb
Mr Clutterbuck is blissfully unaware of his reputation as the fittest and busiest sleepwalker in town.