Illustrations – Charles Santoso
"Nature, Willodeen, knows more than we do, and she probably always will."
Willodeen has experienced so much more than her share of loss in her short life. She's a loner who's much more comfortable in nature than she is around people.
I didn't understand my own feelings most days. I couldn't begin to figure out why other people did the things they did.
When Willodeen grudgingly allows Connor into her life, she finds not only a friend but an ally. Together they are magic in the way that only kindred spirits are.
Along the way, Willodeen learns to trust, and finds her voice and courage. She is the most beautiful reminder that one person truly can make a difference.
Willodeen is an absolute sweetheart, Connor is adorable and I want to adopt Duuzuu and Quinby. I loved this book even more than I hoped I would. There was sadness and some tears but my takeaway is hope.
Willodeen left me feeling like I do whenever I finish a Kate DiCamillo book, all warm and fuzzy, and wishing I could hug all of my new friends who live in its pages.
I read my first Katherine Applegate book in the 90's; it had one of the most profound impacts on me of all the books I read as a kid. It seems I've got a lot to catch up on.
Charles Santoso's illustrations are gorgeous. My favourite shows Duuzuu and Quinby reuniting.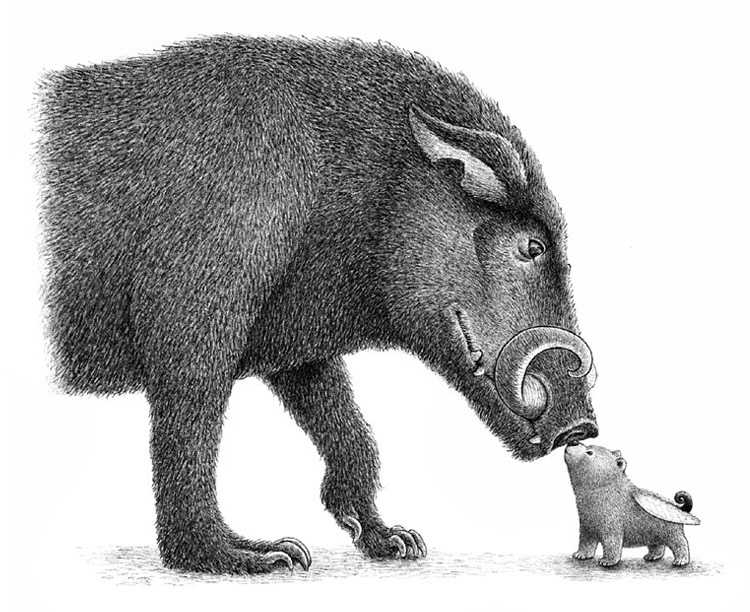 I need to plant some blue willows so I can encourage some hummingbears to visit me.
"There's magic in all of us," Birdie said. "Just a bit. You're born with it, like fingers and toes and fuzzy baby hair. Some of us make use of it. And some of us don't."
Thank you so much to NetGalley and Welbeck Flame, an imprint of Welbeck Children's Limited, for the opportunity to read this book.
Once Upon a Blurb
The earth is old and we are not, and that is all you must remember…
Eleven-year-old Willodeen adores creatures of all kinds, but her favourites are the most unlovable beasts in the land: strange beasts known as 'screechers'. The villagers of Perchance call them pests, even monsters, but Willodeen believes the animals serve a vital role in the complicated web of nature.
Lately, though, nature has seemed angry indeed. Perchance has been cursed with fires and mudslides, droughts and fevers, and even the annual migration of hummingbears, a source of local pride and income, has dwindled. For as long as anyone can remember, the tiny animals have overwintered in shimmering bubble nests perched atop blue willow trees, drawing tourists from far and wide. This year, however, not a single hummingbear has returned to Perchance, and no one knows why.
When a handmade birthday gift brings unexpected magic to Willodeen and her new friend, Connor, she's determined to speak up for the animals she loves, and perhaps even uncover the answer to the mystery of the missing hummingbears.
A timely and timeless tale about our fragile earth, and one girl's fierce determination to make a difference.