After twenty-two years of adventuring, Viv had reached her limit of blood and mud and bullshit. An orc's life was strength and violence and a sudden, sharp end – but she'd be damned if she'd let hers finish that way.

It was time for something new.
If you'd told me a couple of days ago that I'd be recommending a cozy fantasy book to everyone who crosses my path, I doubt I would have believed you. But here we are.
An orc walks away from her old life to open a coffee shop.
"Oh, and hey! What in the eight hells is coffee?"
In a city where almost no one has even heard of "exotic bean water".
And that's pretty much the crux of the story, give or take. At face value it sounds kinda cute but nothing I'd expect to be enthusiastically shoving in people's faces, telling them how much they'll love it.
Viv's story felt like a comfort read from very early on and I can easily see this being a go to read when I need some time out.
I adored Viv, Tandri, Hem, Thimble, Pendry and Cal individually but together this diverse group of kindred spirits felt like home (the good kind).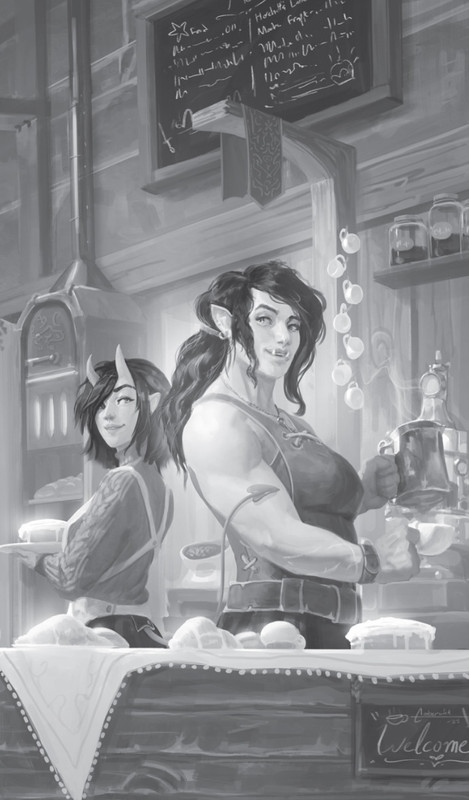 I love that Viv was able to let go of the life that was expected of her and find a bunch of supportive friends who could see beyond her past to who she truly was, friends that encouraged her in her new venture and who had her back.
"If mortal danger threatens us, I promise to hide behind you. Deal?"
While Tandri was my favourite character, I also had a soft spot for Pendry. I enjoyed cheering them on as they gained the confidence to step outside their comfort zone.
I absolutely need a dire-cat in my life.
Favourite no context quote:
"Things don't have to stay as what they started out as"
I'm giving this book however many hm's it takes to fill five stars and can't wait to meet more of Thune's inhabitants in the author's next book.
In the meantime, I'd like to order a bean water with milk and a heavenly frosted cinnamon pastry please.
Thank you so much to NetGalley and Tor, an imprint of Pan Macmillan, for the opportunity to read this book.
Once Upon a Blurb
High fantasy, low stakes – with a double-shot of coffee.
After decades of adventuring, Viv the orc barbarian is finally hanging up her sword for good. Now she sets her sights on a new dream – for she plans to open the first coffee shop in the city of Thune. Even though no one there knows what coffee actually is.
If Viv wants to put the past behind her, she can't go it alone. And help might arrive from unexpected quarters. Yet old rivals and new stand in the way of success. And Thune's shady underbelly could make it all too easy for Viv to take up the blade once more.
But the true reward of the uncharted path is the travellers you meet along the way. Whether bound by ancient magic, delicious pastries or a freshly brewed cup, they may become something deeper than Viv ever could have imagined.