Laser Moose and Rabbit Boy: Disco Fever. Huh? Having never heard of Savage Chickens or Doug Savage before, I had to rely solely on my intrigue at the strange illustration on the cover in my decision to take a chance on this graphic novel. I am so glad I did! Although this book's target audience is kids, don't let that fool you! Adults will get as much, if not more, joy from this book as their kids.
Whenever the cute but obviously evil chickadee is around, bad things happen. Laser Moose, protector of the forest who shoots lasers from his eyes, and Rabbit Boy, his dancing sidekick, are on the case. Cyborgupine, Laser Moose's cyborg-porcupine nemesis, makes use of a truckload of disco balls to attempt to defeat Laser Moose once and for all. Can Laser Moose still be a hero if he can't use his lasers?
With Gus (a vegetarian wolf), Frank (a deer), squirrels, a fish, an eagle and a spider along for the ride, I couldn't choose a favourite character. I liked them all! I even noticed a cameo appearance by Mechasquirrel from the first Laser Moose and Rabbit Boy book.
Doug Savage's illustrations had me happily making a fool of myself by randomly bursting into laughter throughout the book. I particularly loved the chain reactions that evil chickadee caused. This graphic novel is the perfect example of a picture painting a thousand words. The details are important in Doug's pictures and if you pay attention to what's happening in the entire scene you'll be rewarded. Something small and seemingly insignificant at the beginning of the story may well come back into play later.
As soon as I finished reading I searched for more graphic novels by Doug Savage. I found the first of this series along with plenty of Savage Chickens offerings available on my library's digital comic book and graphic novel app. (What would I do without libraries?!) Needless to say, every single one has been downloaded ready for my amusement. Incidentally, as I've recently discovered my love for this publisher, I also downloaded as many Andrews McMeel Publishing titles as I had space to store and plan to go back for more once I've devoured this lot.
Thank you so much to NetGalley and Andrews McMeel Publishing for the opportunity to read this graphic novel.
Reread 23 September 2019
Following on from my reread of Laser Moose and Rabbit Boy I'm revisiting the one that started it all for me – Disco Fever!
Laser Moose and Rabbit Boy's new adventures begin with a Disco Avalanche. Laser Moose has been tracking a new evil in the forest, a really cute chickadee.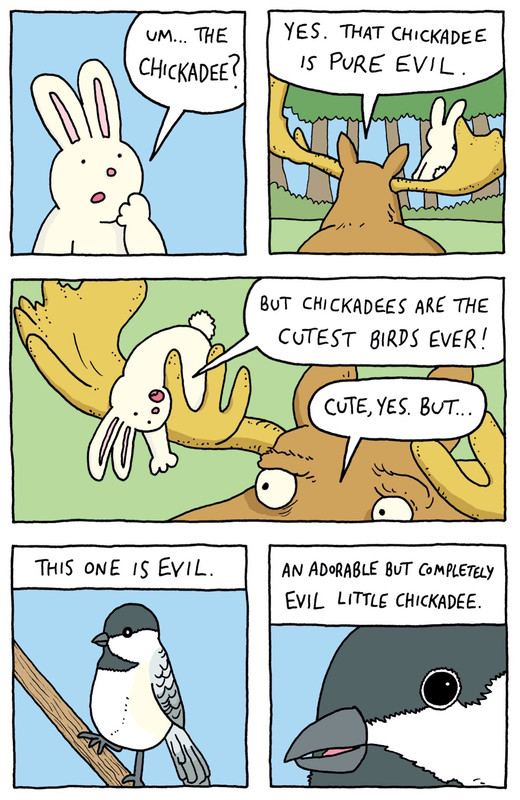 It's a good thing Laser Moose is so suspicious because that sweet little bird manages to set off a chain reaction that results in this!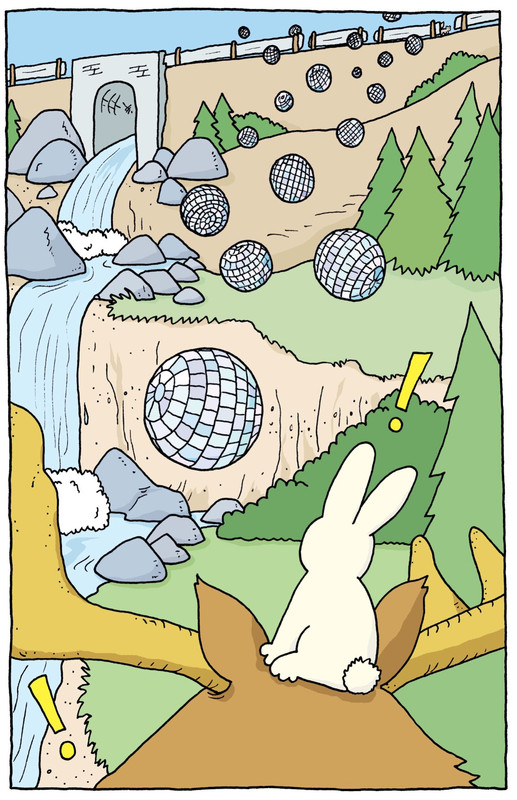 Poor Frank encounters another one of Laser Moose's errant laser beams so it's time for yet another visit to the Doc.
We learn that Mechasquirrel has been working on an evil nemesis type plan for the past two months in A Moose Without Lasers. Meanwhile, Laser Moose and Rabbit Boy are still debating whether that chickadee is a super villain or not.
In Disco Fever Mechasquirrel decides to involve other forest animals in his ongoing battle with Laser Moose by taking hostages. Poor Frank! Laser Moose and Rabbit Boy have a plan, or at least the beginning of one.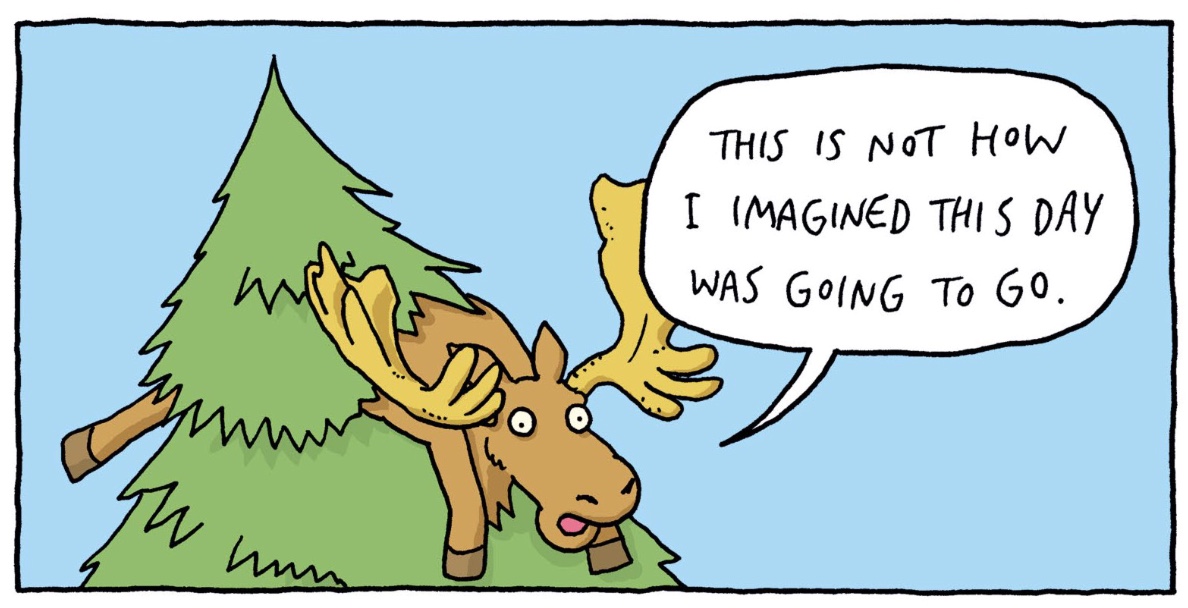 I loved this graphic novel just as much as I did during my first read! I think I appreciated all of the chain reactions and background details even more during my reread and I smiled the entire time. I'm almost positive this is going to remain my favourite Laser Moose and Rabbit Boy read.
Once Upon a Blurb
Laser Moose and Rabbit Boy face a familiar foe, a terrifying new enemy, and the frightening possibility that lasers can't solve everything in their biggest and most dangerous adventure yet.
An accident (involving a pine cone, a fish, and a truck delivering disco supplies) triggers a series of events that leads to the ultimate confrontation between Laser Moose and his nemesis Cyborgupine. And it's a fight that Laser Moose can't win with lasers. Especially when faced with a malevolent new enemy: a cute little chickadee.