Katie's troubles with food began when she was a young child hiding toast in her bedroom and throwing food away. After experiencing bullying Katie's doubts about herself really take root, especially after she compares her body to others and thinks hers is out of proportion. She begins deliberately restricting her food intake, then becomes obsessed with nutrition and calorie counting. Her father takes her to see a doctor at 17 and in the doctor's 'wisdom' she suggests Katie eat ice cream. Surprise, surprise … this is not the solution. I know! Shocking, huh?!
Finally Katie is taken to hospital where she's diagnosed with anorexia nervosa. Her parents withdraw her from school so she can be monitored at all times and she begins to see a psychologist and a dietician. Katie then uses the same perfectionism that got her into trouble in the first place as she begins to work towards recovery. Her intense need for control ensures she feels like she needs to do everything she attempts perfectly to make her feel good enough, but of course that doesn't help.
Katie is very honest about her struggle with food and about instances of sexual assault she later experiences. Her discussions with her therapist about her anorexia, binge eating and effects of sexual assault are difficult to read but so important. Those who have experienced any combination of these issues will see themselves in Katie's experience of healing and those who haven't experienced them will gain valuable insight into the thought processes that accompany such painful experiences. Katie's experience, while it certainly highlights how difficult recovery is, tells us that recovery is indeed possible.
Katie's illustrations in this graphic novel are fantastic. I loved how well the story came to life through the pictures alone. It was clear how all of the people were feeling in each panel and the depiction of Katie's thoughts and illness hovering over her head worked perfectly for the story. I applaud Katie for her strength and courage in not only telling her story in the first place but in sharing it with the reader.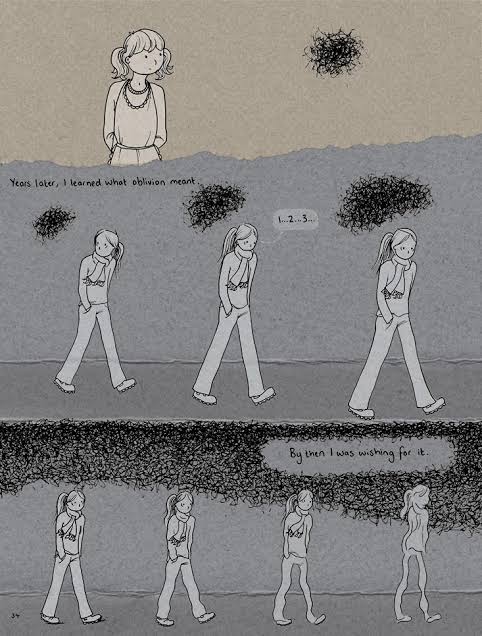 I personally appreciated all of the "me, too" moments I felt while reading, as if Katie was speaking directly to my experience in specific sections. There was also a very significant lightbulb moment for me that I expect will help me immensely once I've had a chance to process the magnitude of the revelation I received. While it's not all about me (except when it is) I'd like to personally thank Katie if she ever comes across this review because her courage in telling her truth is causing a ripple effect in my life. Thank you, Katie! I'll be revisiting this book whenever I'm looking for wisdom, strength and understanding.
Thank you so much to NetGalley and Diamond Book Distributors for the opportunity to read this graphic novel.
Once Upon a Blurb
Like most kids, Katie was a picky eater. She'd sit at the table in silent protest, hide uneaten toast in her bedroom, listen to parental threats that she'd have to eat it for breakfast.
But in any life a set of circumstance can collide, and normal behavior might soon shade into something sinister, something deadly.
Lighter Than My Shadow is a hand-drawn story of struggle and recovery, a trip into the black heart of a taboo illness, an exposure of those who are so weak as to prey on the vulnerable, and an inspiration to anybody who believes in the human power to endure towards happiness.