Having never heard of Melinda Leigh (I know … shame on me!) this novella seemed like a perfect taste test of her writing. A double homicide with a surprise find, a child chained in the basement, this sounded like my kind of book. So I ignored the fact that it's listed as a romance (ARGH! Get it away from me!) and instead focused on the mystery and thriller categorisation (WOOHOO!) and dived in. This was fun!
I don't know about you but I innately trust a book that has a sentence like "Small Town Rule #1: There's always room for pie." If an author understands dessert, then they've gotta be OK.
Twisted Truth is told in alternating chapters by Rogue County Detective Seth Harding and his county social worker wife, Carly. Seth and Carly have an eight year old daughter, Brianna, who has a pygmy goat called Prince Eric and a pony called Maximus.
Now, it seems to me that this town would be lost without Carly's family as they practically run the whole show. Are you ready???
Carly's mother, Patsy, is an emergency foster carer and the family farm also takes on the overflow from the county animal shelter. Patsy has an Irish Setter called Trina.
Carly's late father had been the police chief of Solitude, their hometown.
Carly's younger brother, Bruce, is the new rookie in the sheriff's department and is adorable!
Carly's older brother, James, is the mayor of Solitude.
Carly's sister, Stevie, is a Solitude patrol officer and is married to Zane Duncan, Solitude's police chief.
I really enjoyed reading this book. It felt like the words were flowing around me and I could imagine it as a great beach read. There was always something happening to move the story forward. There was enough information about the characters to make you care about them and hope they didn't get killed. There was a close family but they still had problems so you could relate to them and admire their closeness without them coming across as idealistic.
I really liked that Carly was haunted by a previous case as that gave her character more depth and gave me something to chew on while I was digesting the details of the main story. My only niggle was that there were a few loose ends about the baddie/s that weren't neatly wrapped in a bow for me. However, book 2 is coming soon so I expect my questions may be answered in time.
Favourite Character: Prince Eric. This little pygmy goat escape artist has horns and knows how to use them. A close second was Patsy. A woman adept at pie making and knows her way around a shotgun? What a cool grandma!
You know that classic Raiders of the Lost Ark scene when Indy goes up against the swordsman?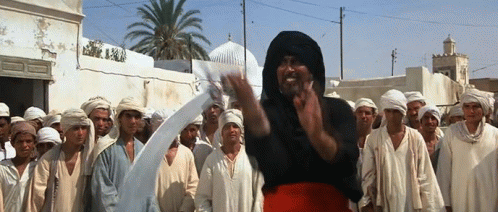 Remember that when you're reading and you'll understand why I cheered towards the end of this book.
Oh, and naturally the FBI rock up after the action's all over. Yay FBI guys!
So, the biggest negative of this book? The fact that I have discovered Melinda Leigh so late in the game, so I have about a bazillion of her books to catch up on. Ha! Like reading has ever been a chore! 😜
Thank you so much to NetGalley and Montlake Romance for the opportunity to read this book.
Once Upon a Blurb
When Detective Seth Harding responds to shots being fired, he faces a familiar sight: a double homicide. However, he is shocked to find a young boy chained in the basement. The terrified child refuses to speak, but Seth knows he is the key to something sinister.
Reluctantly, Seth calls the only social worker he trusts with the traumatised boy — his wife. Carly is recovering from her own trauma suffered on the job, but she can't turn away from this case, not from another child in trouble. With torrential rain bearing down, threatening to isolate their little town in a killer flood, Seth and Carly know the best way to keep the boy safe from danger is to take him back to their farm.
But danger is as relentless as the storm. And it's following them all the way home.