Illustrations – Ronan Badel
Dragons: Father and Son tells the story of a father attempting to teach his son the dragon tradition of burning down houses. Drake is not exactly proficient at fire breathing, having used his abilities for cooking snacks but nothing ever as big as burning down a house!
Drake finds that he's not quite a chip off the old block when he flies to a nearby village the next day, ready to make his father proud. Humans don't seem to be as ferocious as his father has taught him. Can Drake find a way to make his father proud and still stay true to himself?
I loved the expressions captured on particularly the father's face in Ronan Badel's illustrations. The father's use of glasses near the end was a chuckle moment for me. The illustrations complemented the story well and I imagine children will enjoy the father's cranky expressions at the beginning of the book and the son getting ready to burn down parts of the village in earnest to please his father. I really liked the drawings of the bats.
My favourite picture would have to be when Drake tries to go to sleep the night before he sets out for the village. The look on Drake's face as he contemplates the next day's activities is priceless and there was a special cute factor with him holding onto his bird's leg while the bird sleeps peacefully.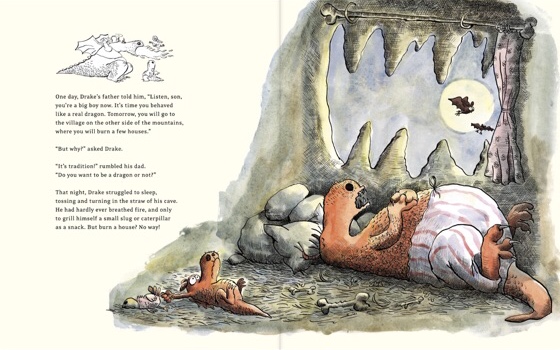 Also, dragons!!! 🐉 😃
Thank you so much to NetGalley and Quarto Publishing Group – words & pictures for the opportunity to read this book.
Once Upon a Blurb
Strokkur is a young dragon, whose father instructs him to act like a proper dragon – and to go out and set fire to some houses. But Strokker isn't confident about his skills and he doesn't want to hurt anyone. How will be prove himself without upsetting his dad and everyone around him? A funny and moving story about the bonds between fathers and children, with a positive, peaceful message – and all the magic and mayhem you'd hope for in a tale about dragons.