👠 Fashionably Fatal Friday the 13th Feature 🎩
While I strongly believe that clothing's not supposed to hurt you, there are plenty of people that don't seem to have a problem with suffering in the name of fashion. There are heels that ruin your feet, jeans so skinny the logo button ends up imprinted on your belly, clothes you can't sit down in, clothes that make you sweat, clothes that make you freeze, and ties that should come with a choking hazard warning.
But what lengths would you go to in order to pull off the latest style?
Is a fashionable death in your future?
I loved Killer Fashion: Poisonous Petticoats, Strangulating Scarves, and Other Deadly Garments Throughout History so much that it has inspired me to break out in poetry to give you a taste of some of the wonderfully wacky causes of death in this book.
Disclaimer: I know some of these 'rhymes' don't exactly rhyme but you will never, ever hear me claim that I think I'm a poet.
Radium's glow makes you look hot
Until your jaw begins to rot
Your fancy bra's underwire
May conduct that lightning's ire
Are you ready to break your toes
To fit into tiny shoes like those?
Dye turns dark hair pale
Until your kidneys fail
Lice crawl all around your wig
And that mouse is mighty big
A man lay dying in the gutter
"Blame that skirt", they heard him utter
Breathe in those toxic fumes
And you'll soon go looney tunes
Fake silky attire was a phase
Until it set the room ablaze
Wear makeup laced with lead
And you'll soon look pretty dead
With plenty of opportunities to die gruesome deaths for both men and women, for wearers and makers of the often toxic or flammable items, Jennifer Wright's quirky book is perfect for those strange and unusual kindred spirits of mine who gravitate towards equally strange and unusual books.
While I had heard of some of these torture devices and death traps disguised as clothes and accessories throughout history prior to reading this book, I hadn't read them in such an entertaining way before. I also learned a lot more than I would have expected from a book that's under 60 pages.
With quotes from such sources as newspapers, a magazine and a medical journal, and including citations that allow those of us who are so inclined to delve deeper, Killer Fashion is one of those books I got a lot more morbid enjoyment out of than I should probably admit.
Each fashion item is allocated two pages. One page has a paragraph ranging from a few sentences to a page of information. The opposite page has a four line poem under an almost full page illustration. Using black, white, grey and red (of course!), Brenna Thummler's illustrations ramp up the quirky factor nicely. Skeletal flapper girls dancing on stage? Brilliant! Just brilliant!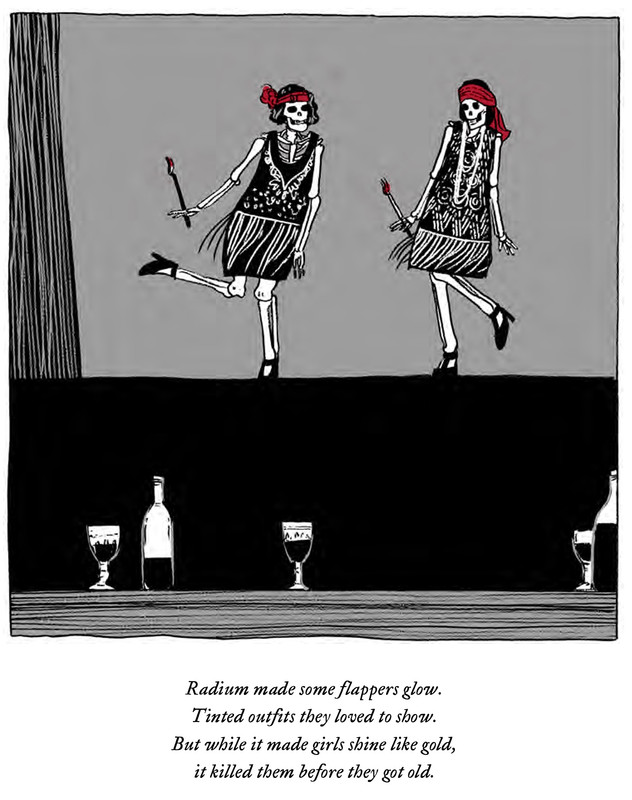 I definitely need to read this book again and investigate some of the books referenced throughout. I'm saying this with the greatest respect to the book, its author and illustrator; this would be a perfect gift book for the weirdo in your life. I would love it if someone bought a copy for me!
Thank you so much to NetGalley and Andrews McMeel Publishing for the opportunity to read this book.
Once Upon a Blurb
A beautifully illustrated book about deadly fashion – real historical stories of strangulation by scarves, neckbreaking high heels, and riot-causing top hats – from the author of the popular histories Get Well Soon and It Ended Badly.
Isadora Duncan was Red
Put on a scarf; popped off her head
Fashion is silly, thought Stein
It may tear your head from your spine
A darkly comic book about some surprisingly lethal garments. Featuring stories like the untimely demise of dancer Isadora Duncan caused by her signature red scarf and the bloody riot that greeted the appearance of the first top hat, among many others, these bite-size accounts will frighten and delight. Killer Fashion includes over twenty of these short tales along with beautiful full-page illustrations. Both morbid and humorous, this book will appeal to fans of Edward Gorey and dark historical trivia.