Wallace the Brave takes us through a year in the life of Wallace, his family and friends from one summer school holiday to the next. Wallace lives with his mother, father and little brother in Snug Harbour. He attends school at Moonstone Elementary where his teacher is Mrs MacIntosh.
Wallace loves playing pinball and enjoys reading comics, his mother has recently discovered her very own comic addiction, his father is a fisherman and is fairly laid back, and his little brother Sterling is a weirdo with a unibrow. He's best friends with Spud, a kid with anxiety, and has made friends with new girl Amelia.
Wallace the Brave sort of reminded me of a Charlie Brown comic but didn't strike me as funny at all. I've read some reviews that thought it was hilarious but I was bored by it. If Wallace the Brave was a Charlie Brown comic then Spud was Charlie Brown, Amelia was Lucy, Scratch-N-Sniff was Pig-Pen and I have no idea who Wallace would be.
I wasn't sure what age Wallace was supposed to be other than knowing he attends Elementary School. His younger brother was even harder to pick an age for as he attends school in the afternoon and talks but he's carried around by his mother in one of those baby carrier harness thingies where you wear your kid like a backpack that you wear on your front … a frontpack? I'm not a parent so don't know the technical name for these things but hopefully you know what I mean.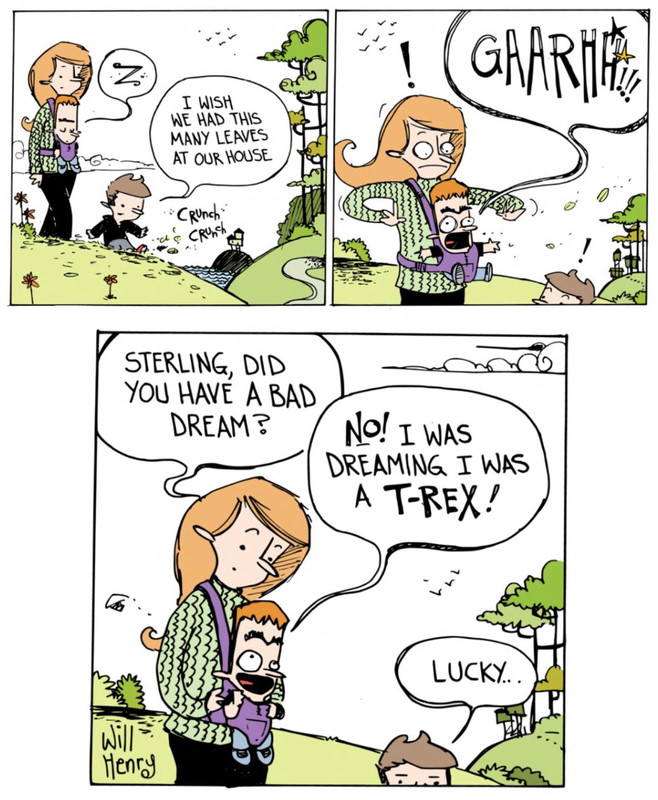 This comic book wasn't terrible or anything. I just didn't find it funny and couldn't connect with it at all. I was really keen to read this when I read the blurb and saw the cover but once I made it past the first few pages I would've given up on it had I not committed to reviewing it.
Thank you very much to NetGalley and Andrews McMeel Publishing for the opportunity to read this graphic novel.
Once Upon a Blurb
Welcome to Snug Harbor! Will Henry's Wallace the Brave is a whimsical comic strip that centers around a bold and curious little boy named Wallace, his best friend Spud and the new girl in town, Amelia. Wallace lives in the quaint and funky town of Snug Harbor with his fisherman father, plant loving mother and feral little brother, Sterling.