This is one of the most powerful books you will ever have the privilege of holding in your hands. I would recommend The Last Veterans of World War II to absolutely everyone, regardless of your personal views on war, life experience or the genre you usually read. This book is simply too important for you to miss out on.
Richard Bell's photography is beyond stunning. The black and white portraits of the American veterans as they are today are some of the most extraordinary portraits I've ever seen. The lighting is just gorgeous and unlike the forced poses and toothy grins you see so often with this type of photography, the expressions captured are natural, as if taken during conversation. There's an honesty and depth to these images that captures the joy, sorrow, wisdom, grace, heartache, humour and character of the veterans. I don't know enough adjectives to adequately describe the way they made me feel.
On the opposite page of each full page portrait you'll find text accompanied by a smaller image of the veteran's hand/s holding a photograph of themselves taken around the time of their service, most times in uniform. There's something about the juxtaposition between the young man or woman in the photo and the elderly hand holding it that made me really emotional. It's such a simple yet beautiful way of connecting each person through time.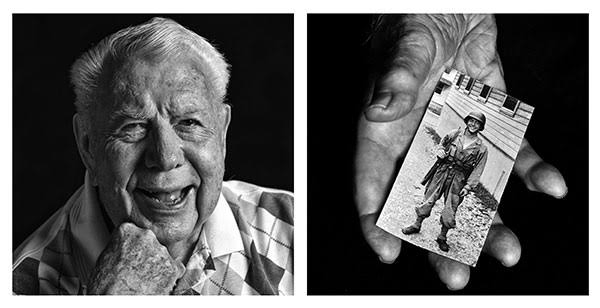 If this book had been filled with photographs alone, the quality and evocative nature of them would have been enough for this to be a ⭐️⭐️⭐️⭐️⭐️ book. However, there's more to this book. Each entry tells you the veteran's name, current age, details about the branch they served in and where, along with a portion of the veteran's story told to the author while he interviewed them.
It feels so wrong to be giving a star rating to peoples' wartime experiences so my rating will be based solely on the photography in this remarkable book. While I won't tell you anything about the experiences shared in this book as my words can't do them justice, I will tell you that I was consistently moved by the integrity, humility and bravery of those interviewed. I learned about so many aspects of the war that I was previously unaware of. One of the quotes that I know will linger with me is by Ben Skardon, who served in the Army and is a Bataan Death March survivor:
"Nothing else is on my conscience that I know about, except why I'm the only one of my friends that made it back."
The Last Veterans of World War II is one of those books that part of you doesn't want to read because gut wrenching is not an adequate descriptor for the horrors these veterans have experienced. Yet you must read books like this because being an ostrich does not work in this situation. We must never forget and we need to continue to honour the heroism and sacrifice of these men and women.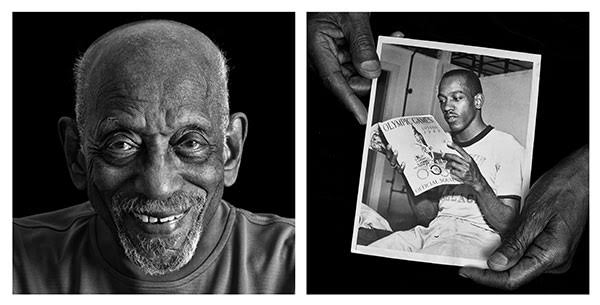 Thank you so much to NetGalley and Schiffer Publishing Ltd. for the opportunity to read this book.
Finally, but most importantly, to the ladies and gentlemen featured in this book along with other past and present service members, I am honoured to have read some of your stories and I thank you for your service.
Once Upon a Blurb
Chronicling the many faces of the WWII effort, these contemporary black-and-white portraits of the longest surviving veterans remind us that the war comprised a collection of Americans from all walks of life. Their penetrating gaze captures the ethos of the endeavour of war. Intimate memories offer glimpses into the horrifying, and at times awe-inspiring, reality of war. The faces of these veterans, from all branches, are juxtaposed with images of their youthful selves and serve as a visual representation of the expanse of their life experiences. Appealing to the families of soldiers, academics, history buffs, and veterans of other wars, this collection is a testament to the spirit of patriotism and strength of a collective American effort.