From the Heart of Africa: A Book of Wisdom comprises of aphorisms (sayings), where they originated and their meaning, every saying accompanied by an illustration. Each illustration is the work of an individual artist, all of which have brief bios at the end of the book.
The compiler of these sayings, Eric Walters, co-founded an organisation focused on the Mbooni District in Kenya called Creation of Hope. This organisation supports orphans and a portion of the proceeds of this book will be donated to assist with the childrens' education.
My Compassion daughter lives in Kenya so I have a soft spot for the people of this country. What I particularly like about what I've learned about Creation of Hope is that while its co-founder is a Canadian man, it's a Kenyan program run by Kenyan people.
I enjoyed the sayings in this book but wanted there to be so many more. There were only 15 sayings included, most I'd heard some variation of before but also a couple that were new to me. The meanings were fairly basic and easily understood.
For me this book was all about the illustrations, the majority of which were vibrant and absolutely stunning. My personal favourite illustration was by Eugenie Fernandes and depicts the saying,
"When in the middle of a river, do not insult the crocodile."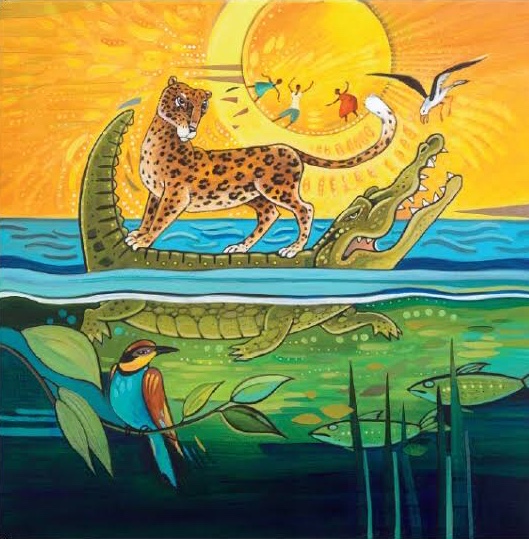 I adored the detail of the animals and the gorgeous colours. I'm no art critic but I want a copy of this illustration and I definitely need to seek out more of this artist's work.
My two favourite sayings in the book were
"Rain does not fall on one roof alone."
and
"I pointed out to you the stars, but all you saw was the tip of my finger."
Suitable for children and adults alike, this would make a beautiful addition to school and public libraries, and as a gift or coffee table book.
Thank you so much to NetGalley and Tundra Books, an imprint of Penguin Random House Canada, for the opportunity to read this book.
Once Upon a Blurb
A collection of African wisdom gorgeously illustrated by artists from Ghana, South Africa, Zimbabwe, Canada, the United States and more.
Aphorisms are universal. They give guidance, context and instruction for life's issues, and they help us understand each other and the world around us. We use them every day, yet never think about where they came from or why they exist.
In this beautifully illustrated collection, Eric Walters brings us classic sayings from the places where this shared wisdom began. Ashanti, Sukuma, Akan and Kikuyu: all of these cultures use the portable and easily shared knowledge contained in aphorisms, and from these cultures and more this communal knowledge spread.
This book is a celebration of art, of community and of our common history.