Anxiety is Really Strange. Is it ever! Yet it is also common, with 28.8% of people being seriously affected by an anxiety disorder at some point in their adult lives. Anxiety disorders include Generalised Anxiety Disorder, panic disorder, Obsessive Compulsive Disorder (OCD), social anxiety and other phobias, and Post Traumatic Stress Disorder (PTSD).
This graphic novel outlines some possible causes of anxiety, outlines philosophical ideas along with a really interesting experiment dealing with mouse poo (of all things), how the body reacts in anxiety mode and some tools for managing symptoms.
I went into this book thinking it would be a really good introduction to anxiety for someone who's just been diagnosed and while I still think it will be useful for some people in this situation, there will be others who will be most likely wanting more advice on helpful tools rather than the thoughts of philosophers.
Now, I'm a proud nerd so I enjoyed all of the sciency, philosophical bits and pieces, and I've found some studies I'm interested in looking into further. People with a general interest in anxiety should get enough from this graphic novel to come away with a better understanding of the roles the mind and body play in exacerbating and easing anxiety. Hopefully Anxiety is Really Strange will make it into the hands of some friends and family members of those affected by anxiety and will result in greater empathy and better support systems.
Quote that made me chuckle:
"Anxiety is a good thing because psychopaths don't have any."
I loved Jon Ronson's quote. My brain automatically made this into a bizarre TV commercial … "Got anxiety? Take heart. At least you're not a psychopath!"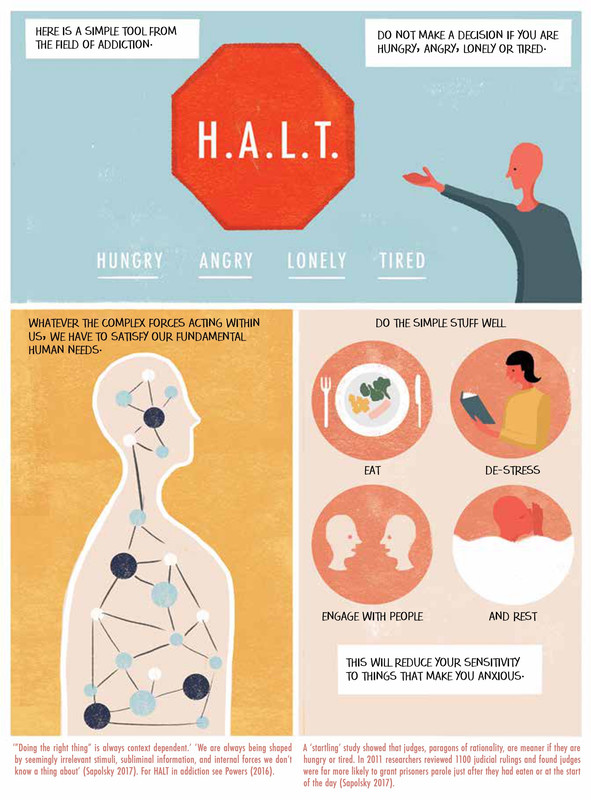 While books about anxiety are useful I believe there's really no substitute for getting professional help. Anxiety can be extraordinarily daunting to deal with by yourself and a doctor and/or therapist who can provide much needed support and tools can make the world of difference to your quality of life.
Thank you so much to NetGalley and Singing Dragon, an imprint of Jessica Kingsley Publishers for the opportunity to read this book.
Once Upon a Blurb
What is the difference between fear and excitement and how can you tell them apart? How do the mind and body make emotions? When can anxiety be good? This science-based graphic book addresses these questions and more, revealing just how strange anxiety is, but also how to unravel its mysteries and relieve its effects.
Understanding how anxiety is created by our nervous system trying to protect us, and how our fight-or-flight mechanisms can get stuck, can significantly lessen the fear experienced during anxiety attacks. In this guide, anxiety is explained in an easy-to-understand, engaging graphic format with tips and strategies to relieve its symptoms, and change the mind's habits for a more positive outlook.