Even if you only have a passing interest in Lego, this is the book you need to see. If you adore Lego like I do, OH! MY! GOODNESS!
Sean Kenney and his team are some of the most creative and talented artists I have ever come across, and believe me when I tell you this book is full of art. These people have quite possibly the best jobs in the world. They get to design and build Lego people, animals and objects for a living. I don't know what their application process is but please, sign me up!
This is the type of book I'd usually borrow from the library, ooh and aah while I paged through the incredible photography, choose a few favourites and then return officially unread. But not this book! Sean writes a little about each of the designs photographed in the book so you will find out really cool stuff you didn't know you needed to know, like how many pieces went into building the model, how large it is and what it weighs, where it is or has been on display, and the stories behind the designs.
You see, the sculptures are only part of this story and in the context of Sean's explanations, you will no longer simply see a photograph of a cool Lego robot. You will also likely know the robot's backstory, its name, what is can do and perhaps what it does for a living, so if you weren't already convinced that plenty of time and love went into building it just from the photo, you will be after knowing its story.
The attention to detail in all of the designs are spectacular, particularly in the accuracy of the buildings, and you'll also come across some playful humour such as the man walking his pet shark along a New York street.
You don't even have to have an interest in any of the topics covered in the book to appreciate it. For example, could I care any less about sport? I doubt it. Were the silhouettes of figures in typical baseball game poses among my favourite images in the book? You betcha!
Favourite New Word: Hoverdooder – what you add to a car, truck, school bus or any other vehicle after removing the wheels to make the vehicle a flying car, truck, school bus, etc.
Top 7 Favourite Designs (in no particular order): rubber duck, monarch butterfly, hummingbird, grandfather teaching his granddaughter to garden, green bicycle, fisherman, and the five foot tall corn spider that hangs from the ceiling.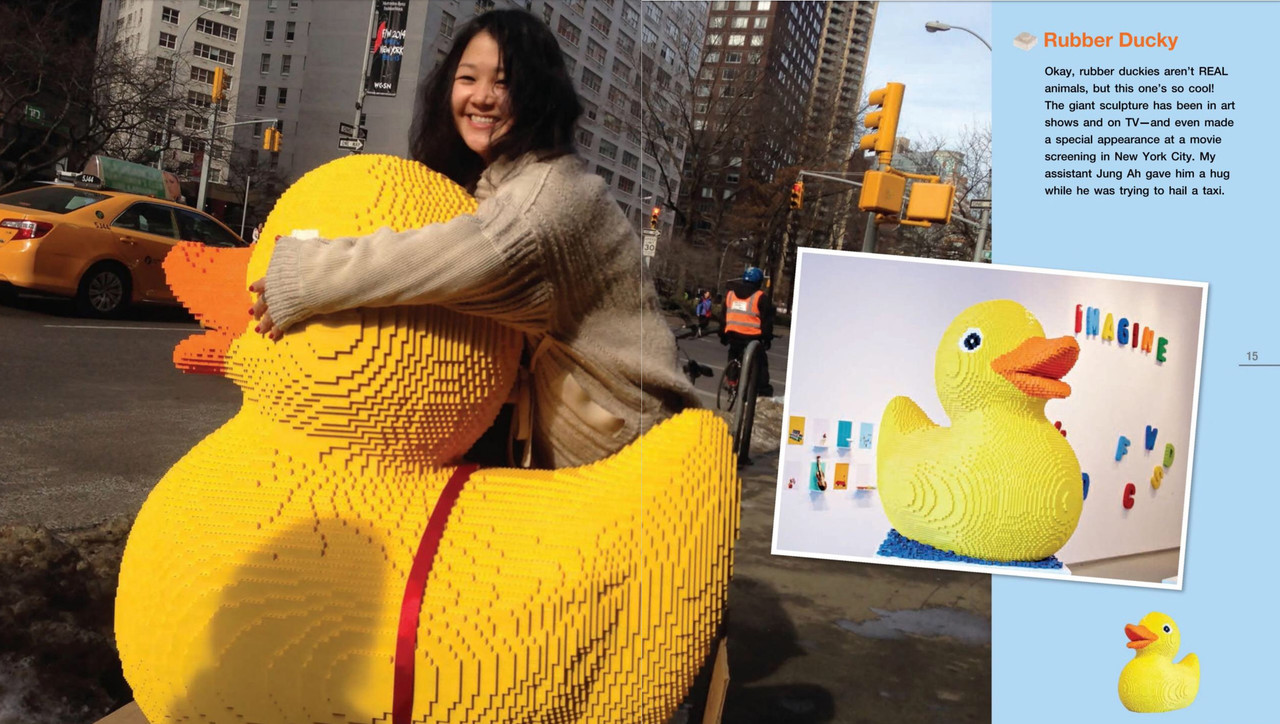 Sean Kenney tried to do the corporate thing and worked in an office but thankfully his creative side broke free and took him on the path he's on today, inspiring big and little people to unleash their creativity and follow their dreams. I have to find a way to see some of these sculptures outside of book land!
P.S. I love my library for introducing me to new book friends like this one. 💜
Once Upon a Blurb
A behind-the-scenes exploration of a LEGO master's body of work-for LEGO enthusiasts of all ages.
Kids love building with LEGO bricks, and so do "professional kids" like Sean Kenney. After twelve years writing code and designing websites for major corporations, Sean pursued his dream of making LEGO art. The New York Times calls his work the "artistic elite" of LEGO building. Today, Sean has four internationally touring exhibits of his work and is recognised as one of the premier LEGO builders in the world.
This large-format photographic book provides a fascinating in-depth look at a LEGO artist's oeuvre. Chapters explore such subjects as transportation vehicles, animals, life-size work, science fiction, nature, cities, sports, portraits, and even home furnishings and custom apartments! A personalised LEGO compendium perfect for brick-building enthusiasts of all ages.