Clifford as a self help book? Allow me to explain.
I've had Clifford's Spring Clean-Up waiting patiently to be read since well before Christmas and I have noticed an interesting phenomenon. Each time I pass by and glance at the cover my brain automatically wanders into 'what can I clean/tidy/organise?' territory. My Pavlovian 'I watched a Hoarders episode' response has been replicated and I've been on a dusting, reorganising and purging kick ever since. So, thank you, big red dog!
In Clifford's Spring Clean-Up, Emily Elizabeth's family (including Clifford) spend the day spring cleaning. First they work on their home and yard, where Clifford helps as only he can, with plenty of oops moments and the cutest expressions when things don't quite go according to plan. Then Emily Elizabeth and Clifford help out her friends with their Earth Day Project before returning home so Clifford can clean his kennel.
As usual, Clifford is gorgeous, the story and illustrations are wonderful, and Emily Elizabeth's parents are saintly as nothing Clifford accidentally destroys is a problem. They just get on with it and fix or clean up Clifford's 'helpful' messes. Clifford books are always winners and this one's no different! ❤️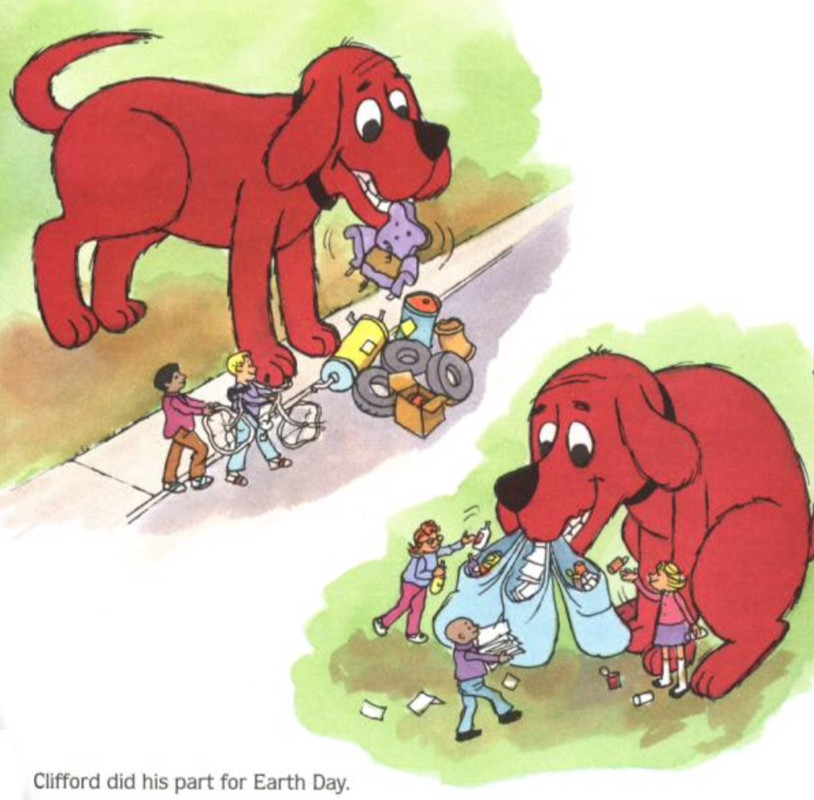 Once Upon a Blurb
In this all-new adventure, he's hard at work getting the house clean. When Emily Elizabeth airs out some throw rugs, he grabs the living room carpet and gives it a good shake – in fact, he shakes it to pieces! What Clifford does best is help clear out the weeds for the vacant lot on Earth Day.