Illustrations – Marta Álvarez Miguéns
Shark Lady is the inspiring true story of Eugenie Clark, who I had never heard of but definitely need to learn more about. In this beautifully illustrated children's book the reader is taken on a journey from when Eugenie first discovers her love of sharks at the aquarium through to her lifelong study of these magnificent animals, academically and in the field.
Defying the cultural expectations of her gender that said girls were not "smart enough to be scientists or brave enough to explore the oceans" (BOO!), Eugenie did both and became known as Shark Lady (WOOHOO!). Throughout her life some of the amazing things she accomplished included writing books and journal articles, discovering new species of fish and dispelling myths about sharks.
Included in this book are some Shark Bites (two pages of information about sharks) and a timeline of Eugenie's life. Eugenie lived into her 90's and spent her final birthday scuba diving! How cool is this lady?! 💜 Her story is inspirational and a testament to what hard work combined with believing in your dreams can amount to.
I remember needing to do a report to the class in early high school where you chose an animal and talked about its biology. I chose sharks and no one could understand why. Ever since Bruce nearly scared the life out of me while watching Jaws as a young child I've been fascinated by these extraordinary creatures, so I particularly loved Eugenie's story.
Marta Álvarez Miguéns' illustrations are so beautiful! I love that the marine life looks real, rather than a cartoon version of them and adored that the clothing worn by everyone at the aquarium when Eugenie was a child were appropriate for the early 1930's, even including an array of fantastic hats. My favourite illustration is the one where the sharks watch from behind the library shelves as Eugenie studies. There are so many imaginative illustrations and they help bring the wonder and passion of this girl to life.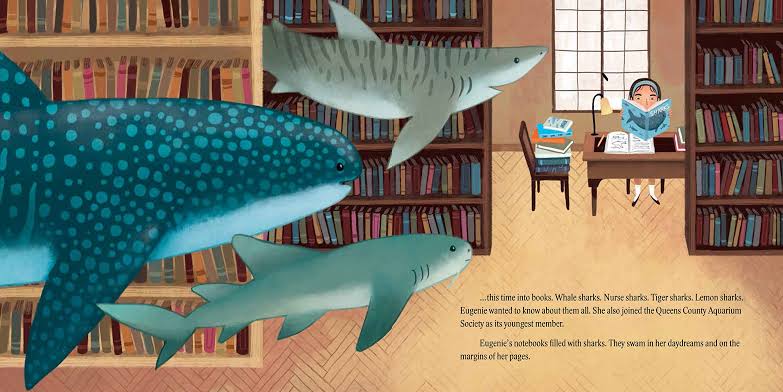 I'd recommend this book to children and adults alike. Future scientists will be encouraged by her story and I hope after reading this book that anyone with a dream will be inspired to follow it, regardless of what anyone else thinks. This is one of those marvellous books that makes me so proud to be a woman. GIRL POWER! 😃
P.S. I love that my library buys books like this one!!!
Once Upon a Blurb
At 9 years old, Eugenie Clark developed an unexpected passion for sharks after a visit to the Battery Park Aquarium in New York City. At the time, sharks were seen as mindless killing machines, but Eugenie knew better and set out to prove it. Despite many obstacles in her path, Eugenie was able to study the creatures she loved so much. From her many discoveries to the shark-related myths she dispelled, Eugenie's wide scientific contributions led to the well-earned nickname "Shark Lady."