Why have I never heard of this series before?! Have I been hiding under a meteoroid? This was so much fun!!!
When Zita and her friend Joseph find a hole in the earth that wasn't there before, they have to check it out. There's a meteoroid with something inside it. Something that has a red button. Of course Zita is going to press it! A portal appears and something grabs Joseph and pulls him through. After some mild freaking out Zita follows him through the portal into another world with a multitude of alien species. Or perhaps she's the alien?
Zita witnesses Joseph being kidnapped and is determined to find him and return them both to Earth. Along the way she meets new friends including One, Mouse, Strong-Strong and Randy. Together they journey against the clock to find and save Joseph, for there's a countdown happening in this world. There's only three days left before an asteroid will destroy it!
This is one of those graphic novels that has few words but is big in story and scale. The illustrations of all of the new creatures Zita comes across are generally either cute, amusing or downright creepy. I love a 'girl on an epic quest' story and this one is action packed. I smiled throughout the story and can't wait for the next instalment.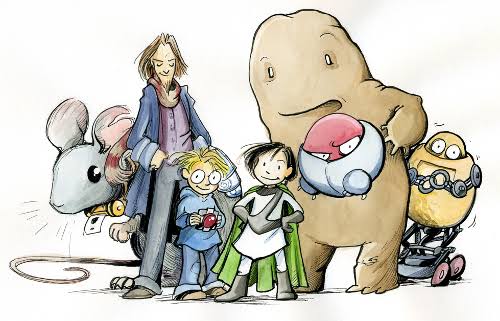 All of the copies at my local library are on loan so I have to wait to find out what happens next! I'll do my best to not read any reviews of Legends of Zita the Spacegirl because I want to go into it the same way I did with this one – loving the cover and knowing nothing at all about the story.
Reread 18 May 2018
Here we are almost 4 months after I first adored this graphic novel and I still haven't read Legends of Zita the Spacegirl. What's wrong with me?! (Please don't answer that!) The bright side is that I decided to reread this one so I remembered where I left Zita and her friends.
I had so much fun during my reread. I appreciated and paid more attention to the details this time around, including the wonderful expressions on Zita's face throughout the story. I loved her wide eyed OMG, the button worked! expression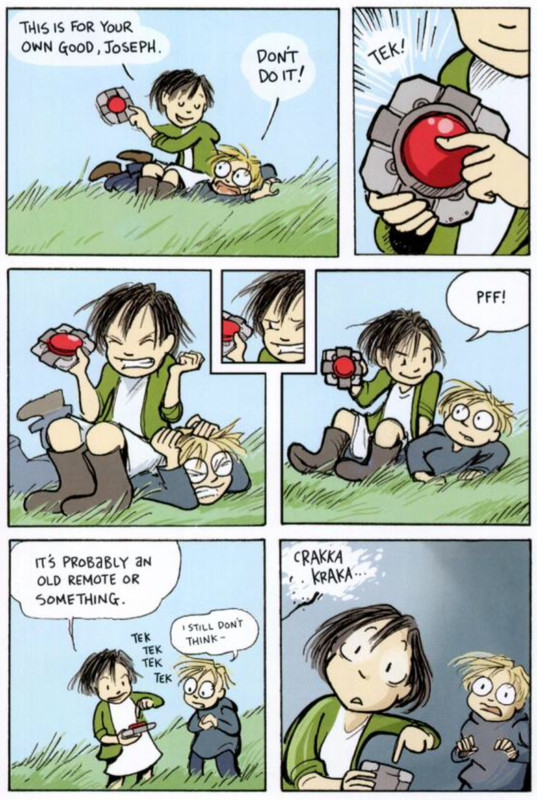 and giggled at the "BLRG!" horror of raising herself from the ground covered in giant snail slime.
Character wise, I had completely forgotten about dopey Jerry who joyfully declares the good news that "In three days an asteroid is gonna explode us all!" to attempt to fix Zita's leaking eyes. The monster wearing the "The End is Nigh" sandwich board is wonderful. I adore all of the monsters featured with the chapter number signs although I'm quite partial to chapter two's sod on legs with leaves on its back and bugs hanging out with it. I think I need a plush Strong-Strong to cuddle.
The illustrations are as engaging as they were when I first saw them. What surprised me during this read was how quickly I connected with each newly introduced character. Within a couple of panels I was all in, which is pretty impressive considering that there are entire novels where the author doesn't manage to connect me to a single character. Overall I think I enjoyed the story even more the second time and would happily read it again.
Favourite Invention – Doorpaste, which would be useful in countless Looney Tunes cartoons.
Favourite Line –
"My favourite food from the meat category is sugar."
(from the Early Zita Sketches page, not the story)
Once Upon a Blurb
Zita's life took a cosmic left turn in the blink of an eye.
When her best friend is abducted by an alien doomsday cult, Zita leaps to the rescue and finds herself a stranger on a strange planet. Humanoid chickens and neurotic robots are shocking enough as new experiences go, but Zita is even more surprised to find herself taking on the role of intergalactic hero. Before long, aliens in all shapes and sizes don't even phase her. Neither do ancient prophecies, doomed planets, or even a friendly con man who takes a mysterious interest in Zita's quest.
Zita the Spacegirl is a fun, captivating tale of friendship and redemption from Flight veteran Ben Hatke. It also has more whimsical, eye-catching, Miyazaki-esque monsters than you can shake a stick at.