Illustrations – CAFU
The artwork in Rapture is brilliant! The people, creatures and landscapes really come alive. Not realising there are a swath of comics related to the characters in the Valiant world, I came into this one completely unprepared, basing my interest solely on the cover image.
I was thankful for the page that gave a bit of a heads up on who's who in the zoo but knowing nothing else about the characters or the world I felt I missed out on a lot. The story was interesting, there's plenty of action and the illustrations were incredible, but I didn't connect to any of the characters so I wouldn't recommend coming into this world via this graphic novel.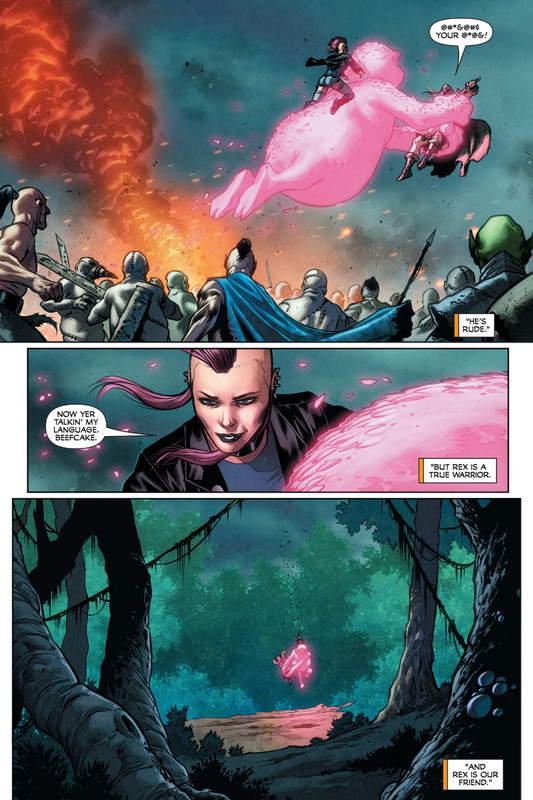 Thank you so much to NetGalley, Valiant Entertainment and Diamond Book Distributors for the opportunity to read this graphic novel.
Once Upon a Blurb
On a scarred landscape, two otherworldly armies prepare to battle one last time, vying for control of a massive tower named from an ancient language no longer permitted to be spoken. One army is led by a primeval force named Babel, whose goal is singular: to breach "Heaven" no matter the cost. The only thing standing in his way is a gray-haired barbaric warrior, filled with rage and regret, a man who sees this battle as his last chance for redemption. But he knows his depleted forces have little chance of victory unless aid comes.
Enter Tama: A 12-year old girl on the crest of a hill overlooking the battle, who has just become humanity's only hope. The last in an ancient line of mystics who protect the Earth, she has foreseen this battle and knows millions will perish if she's unable to stop it. Now Tama and her ragtag team of malcontents – Ninjak, Shadowman and Punk Mambo – must somehow defeat an elder god hell bent on piercing the heavens. New York Times best-selling writer Matt Kindt (X-O Manowar) and artistic sensation CAFU (Rai) lead a Tolkien-esque journey into the space between life and death … through the Deadside … and into the many worlds that lie beyond right here with a spellbinding and horrific standalone volume! Collecting RAPTURE #1-4.