This is a colourful book aimed at young kidlets to help them acknowledge and face their fears. Throughout the book common childhood fears including the dark, dogs, what's under your bed, storms, arguments and getting lost in a store are addressed, along with ways to overcome fear in those situations.
Encouraging children to tell someone about their fears, this book offers some easy solutions and different ways of thinking about fears to help overcome them. A nightlight can help if you're scared of the dark. Building a fort during a storm is a great distraction tool.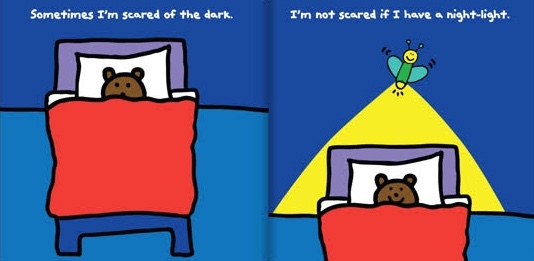 I wasn't aware that shopping for new underwear was scary as a kid (I know the price tags are scary for adults) but if it helps to wear your new undies on your head, more power to you!
I loved the bright, cheerful illustrations and that there's no judgement about having a fear in the first place. By offering suggestions of ways to overcome fears it empowers children to face their fears and perhaps even come up with some ideas of their own. I just wish our caped crusader on the cover image featured inside as well.
Once Upon a Blurb
Sometimes I'm scared of dogs.
I'm not scared when they give me kisses.
Sometimes I'm scared I will make a mistake.
I'm not scared when I know I tried my best.
With his signature blend of playfulness and sensitivity, Todd Parr explores the subject of all things scary and assures readers that all of us are afraid sometimes.