Illustrations – Fernando Cano
🧟‍♀️ 🧠 BRRAAINS! 🧠 🧟‍♂️
Hansel and Gretel are The Walking Dead in Hansel & Gretel & Zombies. Along with their parents who have dead boring (sorry!) names of Mr Undead and Mrs Undead, Hansel and Gretel are protein deficient. Their corner of the Magical Forest doesn't attract many brains these days and in a broken lightbulb moment Momma zombie comes up with a plan – to disguise her undead children as not dead children to trick tourists into helping them find their way home to the cemetery for dinner, Hannibal Lector style.
All dressed up with Gretel's gaping hole in her skull covered with a bonnet and Hansel's missing eye still glowing an eerie fluorescent yellow-green, our undead kidlets wander off and wind up at Ms Witch's newly renovated cottage. The children prove their zombieness (I can make up words. It's my review! 😜) by their abhorrence of all things sugar. A battle of wits ensues.
Fernando Cano's illustrations are suitably entertaining. I loved the old cemetery.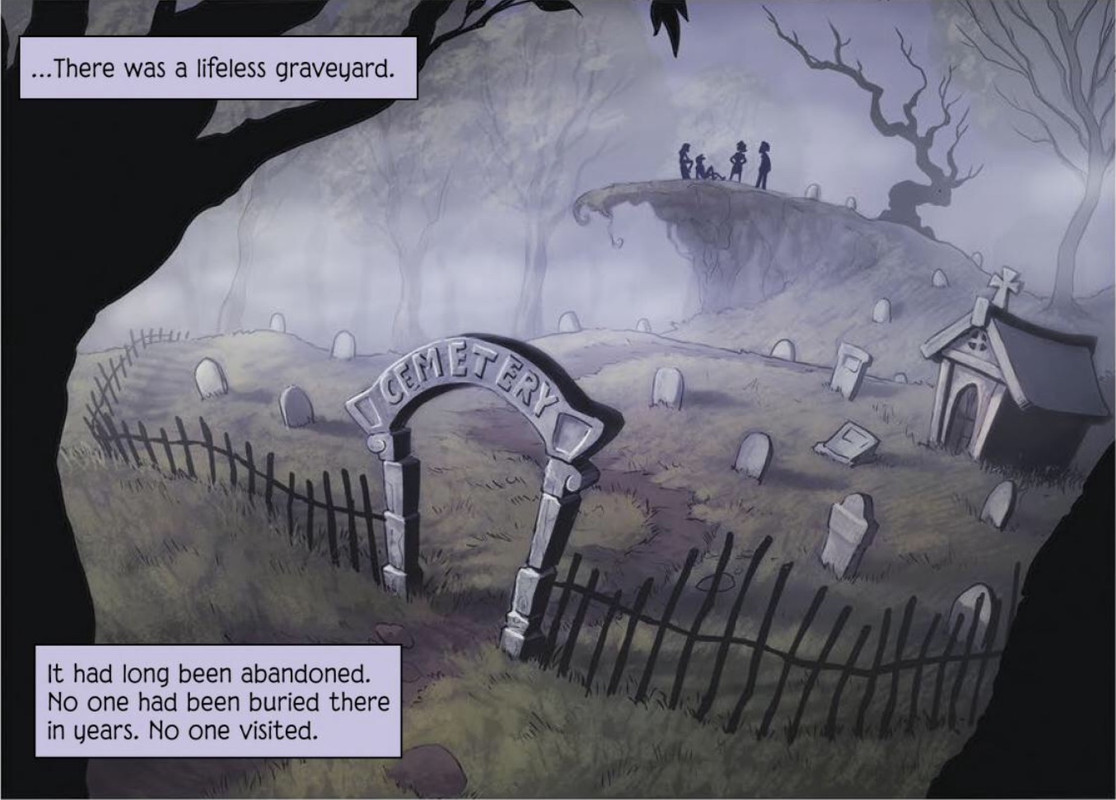 My favourite panels show Gretel trying to form an idea. I won't spoil what it looks like but I'm still amused. On the attention to detail side of things only Mrs Undead's stitched mouth lines are consistent throughout. All of the other zombies have mouth stitches on some panels but not others.
The storyline was okay but not overly captivating. The twist at the end was a let down for me. Overall I prefer the original fairy tale, which is more far out than this Far Out Fairy Tales version.
So, it's now time to beg my library to buy the rest of this series! 😃
Once Upon a Blurb
The Undead Family is out of brains to eat! Tourists have stopped visiting their home – a graveyard – for some time now, and the family of zombies is starving. So they venture into the Magical Forest, disguised as tourists, hoping to lure humans to an early grave! Unfortunately, an evil witch has other plans for the crepescular kiddies and sets up her own tourist trap …