Illustrations – Carme Lemniscates
I love this book! Written with 4 to 8 year olds in mind but empowering for all ages, this warrior goddess is a young girl with gorgeous red flowing hair. The reader is taken through her day from morning when she greets the sun to bedtime.
Our warrior goddess is connected to nature and keeps her body and mind strong. She's loving and fierce. She helps others and is a leader. She's self reliant and confident.
My favourite illustration is of our warrior training her mind for battle in her school library. She's surrounded by books and is in her own world as she reads. She has this serene, blissed out look on her face that mirrors how I feel when I'm happily held captive by book world.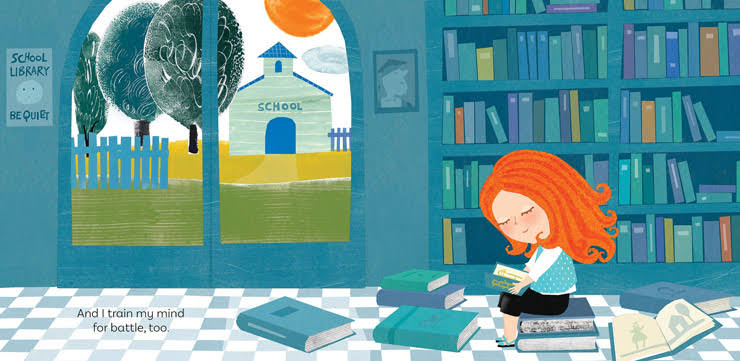 Favourite Sentence –
"I fill my heart with kindness, the most powerful weapon there is."
This is the type of book I wish I'd had in my grabby book hands as a kid. I would have wanted to read it every day. While there aren't many words in this book they're awesome ones.
I particularly adore that this isn't a "when I get older I'm going to…" book. No. This book is about the here and now, about what kids can do today to make a positive impact in their world. I feel empowered after reading it and would recommend it to all warrior goddesses regardless of age.
Once Upon a Blurb
You don't have to be a grownup to be a hero! I Am a Warrior Goddess shows how in the empowering tale of a little girl with big aspirations. Through the clever play between illustration and text, readers see that each day is full of opportunities for little people to make a big impact with ordinary actions. As our heroine connects with the earth, takes care of her body, and finds strength in kindness, she discovers her inner warrior goddess and inspires young girls everywhere to do the same.