Kim Reaper Vol. 1: Grim Beginnings combines the first four issues of this fun new series. Becka and Kim are both studying fine arts at university but Becka's crush on Kim, which consists of staring dreamily at the back of her head in class, is the sum total of their interaction. Becka's friend Tyler finally convinces her to ask Kim out so after class she follows Kim, who disappears into a portal in the corridor.
Naturally this is a job for social media so Becka gets ready to capture this moment for internet posterity but then her phone and Becka both get sucked into the portal. It turns out that Becka's crush has a part time job to help pay her way through uni and to fund her expensive goth clothes. Kim is … 🥁 … a reaper … of animals because she hasn't been promoted to reaping people yet. 😊
What follows is a process of the two girls getting to know each other, visiting each other's favourites places and a few other fairly typical getting to know you scenarios, like encountering a cat hoarding gym junkie energy drink addict hulk, zombies 🧟‍♀️ 🧟‍♂️, bed cookies, ghouls, and going to hell via the employee's entrance.
I wasn't quite sure what I expected from this collection. I was sucked in purely based on the wonderful cover image and its implied promise of purple tones throughout. I got the purples I was looking for along with a beautiful soft colour scheme. All of the illustrations were really sweet and I was impressed that both girls actually had curves.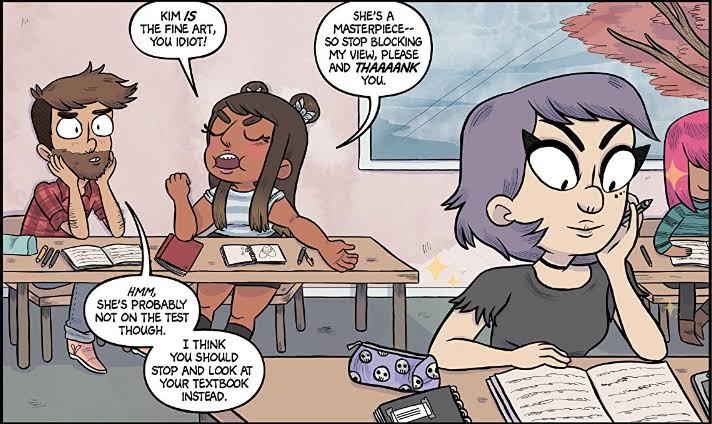 The stories were interesting and the budding relationship between Becka and Kim was cute, with arguments along the way before their first kiss. Aww! 😘 While the language used came across as a bit too young for the characters, I was entertained for the entire ride. The strange occurrences in the stories took me deeper into this world instead of the jarring effect I sometimes experience. I had no problem believing anything was possible in this world and I look forward to finding out what's next for this cute new couple.
Thank you so much to NetGalley and Oni Press for the opportunity to read this graphic novel.
Once Upon a Blurb
Part-Time Grim Reaper. Full-Time Cutie!
Like most university students, Kim works a part-time job to make ends meet. Unlike most university students, Kim's job is pretty cool: she's a grim reaper, tasked with guiding souls into the afterlife.
Like most university students, Becka has a super intense crush. Unlike most university students, Becka's crush is on a beautiful gothic angel that frequents the underworld. Of course, she doesn't know that.
Unaware of the ghoulish drama she's about to step into, Becka finally gathers up the courage to ask Kim on a date! But when she falls into a ghostly portal and interrupts Kim at her job, she sets off a chain of events that will pit the two of them against angry cat-dads, vengeful zombies, and perhaps even the underworld itself. But if they work together, they just might make it … and maybe even get a smooch in the bargain.