Illustrations – Werther Dell'edera
I'm not quite sure how this happened but I made it through my entire childhood without reading a single Nancy Drew or Hardy Boys book. I began to rectify this glaring hole in my bookish experience two years ago when my library bought the first few Nancy Drew books. I read and enjoyed the first two before getting distracted by another book. Here we are two years later and I've been distracted by so many other books that I haven't read the third book or beyond. I'm yet to read a Hardy Boys book.
I was excited to have the opportunity to read Nancy Drew and the Hardy Boys: The Big Lie but when I tried to get into it the first time I was concerned that my lack of inside information about this trio would mean I would be lost before I started. I needn't have worried. Finally giving up on getting to know Nancy better and the Hardy Boys at all first I dove into this graphic novel today and it was surprisingly awesome!
When I originally met book Nancy she came across to me as fitting a tad too well in the 'practically perfect in every way' box but I loved her character in this noir graphic novel. This story shows Nancy, Frank and Joe with an edge that I'm guessing they never had in the novels.
In this story we find ourselves in postcard perfect Bayport. The Hardy Boys are suspects in their father's murder and together with childhood friend and fellow mystery solver Nancy Drew, they need to find a way to clear their names and identify the real murderer. Along the way there are fist fights, suspicion thrown around some shady and not so shady characters, police brutality, flashbacks, meetings in the middle of the night and a good ol' fashioned secret passageway left over from the Prohibition era.
I'm not sure how people who grew up loving Nancy, Frank and Joe will fare with what appears to be a hardening of their characters and a less innocent bunch of mystery solvers. I enjoyed the grittiness of the investigation and it probably says something about the feel of the graphic novel that in my head the male narrator/voice over had the same voice as Mickey Rourke's Marv in Sin City.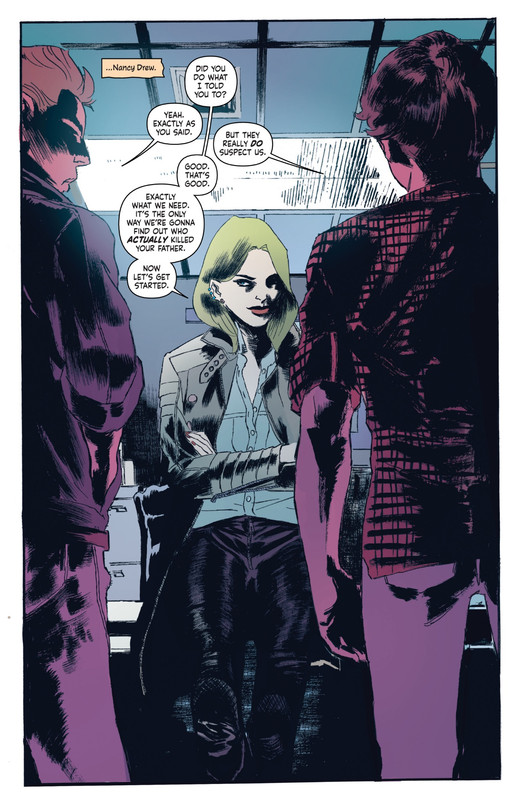 I loved the front cover image, combining the trio and providing a hint of what's to come. The illustrations matched the style of the story; dark, murky at times, with plenty of shadows to add to the ambience.
While one part of the mystery is solved in this graphic novel there's an overarching mystery that remains to be solved another day, and it will definitely be a follow up I'll be looking out for.
Thank you so much to NetGalley, Dynamite Entertainment and Diamond Book Distributors for the opportunity to read this graphic novel.
Once Upon a Blurb
Volume collects issues 1-6.
A Nancy Drew and Hardy Boys mystery unlike any other you've ever read! When the teenage brothers Frank and Joe Hardy are accused of the murder of their father – a detective in the small resort town of Bayport – they must team up with Nancy Drew to prove their innocence (and find the real guilty party in the process) in a twisting noir tale, complete with double-crosses, deceit, and dames. 
Writer Anthony Del Col (Assassin's Creed, Kill Shakespeare) and artist Werther Dell'Edera (Batman: Detective Comics, House of Mystery) bring the iconic teen detectives into the modern age, and redefine noir for a new generation of readers!