"You know what, Morrigan Moore? Your endless whingeing is wearing a bit thin."
I couldn't say it better, Mr King of the Crows. Morrigan Moore is a fairly impressive tantrum thrower. Throughout the story she winds up yelling at pretty much everyone.
Morrigan is fourteen and isn't happy about moving (again!) to the middle of nowhere. Edgar, her older brother and Sophie, her mother are gathering information about the King of the Crows and the Scarecrow Prince for their next book in the Myths of Albion series.
After a crow steals her hair pin and she gets cranky (again!), Morrigan winds up meeting Alma, a potential friend if she can put up with Morrigan's anger issues, and Dandelion, one of the dogs Alma is paid to walk by rich people.
When Dandelion pulls hard on her leash to chase a crow (yes, they're everywhere in this story) Alma's bracelet breaks and ends up in Widow Abbott's yard, a recluse and the oldest woman in town. Although Alma tells her not to, Morrigan decides to find the broken bracelet.
As soon as she retrieves it, Widow Abbott appears, warns Morrigan that she's exposed, that shiny objects attract him and he has eyes and ears everywhere, before hustling the new girl inside. Who has eyes everywhere? The King of the Crows and apparently underestimating his threat only makes him more dangerous, so pay attention! Arming Morrigan with a button for protection, Widow Abbott sends her on her way. Yeah, that'll help! Thanks, scary old lady!
Then there are some action scenes and kidnapping, followed by watching Morrigan masturbate before she has a suggestive conversation with the creepy Crow Man, who incidentally is not just her senior but at least several hundred years older than her. That's if he's not immortal. I don't know. I'm pretty sketchy on some of the details. Maybe I missed some of the really important links but some of the scenes appeared jumpy, without the connection needed to get the full picture.
Morrigan has some wicked eyebrows and one of the best angry faces I've ever seen,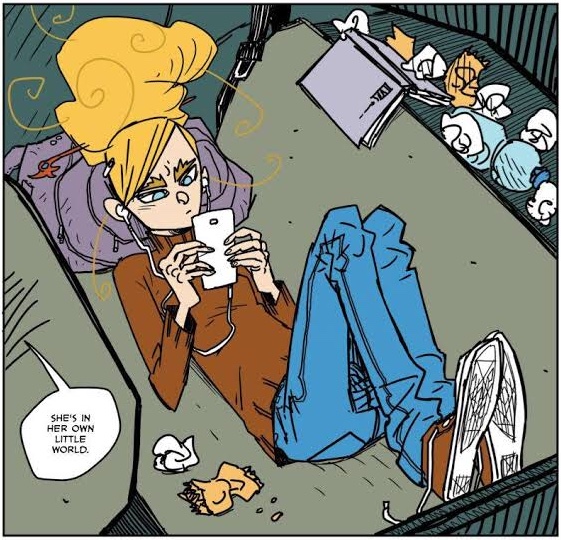 but I don't know why a fourteen year old is wandering around preparing for battle yet forgets to put on her underwear. Seriously! Why did we need a naked fourteen year old girl facing off against a naked man of indeterminate age but somewhere in the 'why aren't you dead already?' range?!
While I'm asking questions, why are Morrigan's older brother and her mother consistently referred to as her folks? Was something lost in the translation? Why does Morrigan's brother look positively evil in some of the panels where he's smiling?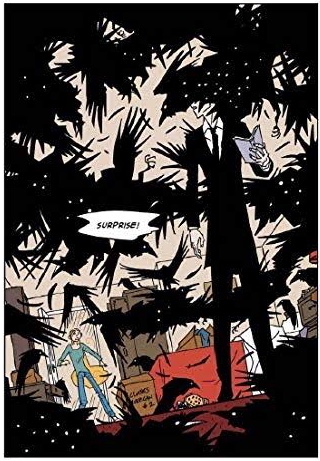 While I was really interested in this graphic novel based on the blurb and cover image I found a lot of the scenes with Crow Guy really hard to decipher. There's plenty of black swooshing around the pages but it's hiding the detail of what's actually happening a fair amount of the time.
While I was initially hooked because we were setting off to investigate a local legend and that should be awesome, I wound up disappointed. I guess I should've listened when Morrigan's mother said at the beginning:
"It's not the job of an author to give the reader what they want … It is the job of an author to give the reader what they need."
I didn't get what I wanted or hoped for. Did I get what I needed? I guess the author thinks so. Unfortunately I won't be recommending this one.
Thank you to NetGalley, Lion Forge and Diamond Book Distributors for the opportunity to read this graphic novel.
Once Upon a Blurb
Morrigan Moore has always been moody, but her new home is the worst. Her novelist mother has dragged her to the countryside, drawn by the lost myth of the King of Crows, a dark figure of theft and deceit, and the Scarecrow Prince, the only one who can stand against him. When Morrigan finds herself swept up in the legend, she'll have no choice but to take on the Scarecrow Prince's mantel, and to stand and fight. For her town, her family, and her own future. This lushly drawn graphic novel will pull you into its sinister secrets and not let go till the final page. For fans of Coraline and Over the Garden Wall.