This is a confronting and brutal depiction of child abuse and family violence. Brenda's only a small child when she earns the nickname 'Little Mama'; she takes on adult responsibilities, looking after her own mother. Brenda's mother is abusive and while Brenda's bruises don't go unnoticed at school, no one intervenes.
Brenda's life becomes even more volatile when her mother's new boyfriend moves in. The only good thing in Brenda's life is her new baby brother, Kevin, who she cares for and adores.
Told mostly in flashbacks while adult Brenda tells her therapist about her traumatic childhood, this is not a fun read. The long term effects of trauma are evident in this story – Brenda's guilt and shame, the effects on her self esteem, the intrusive nature of the memories – but you also get to see her resilience, despite experiences that understandably made her want to give up at times.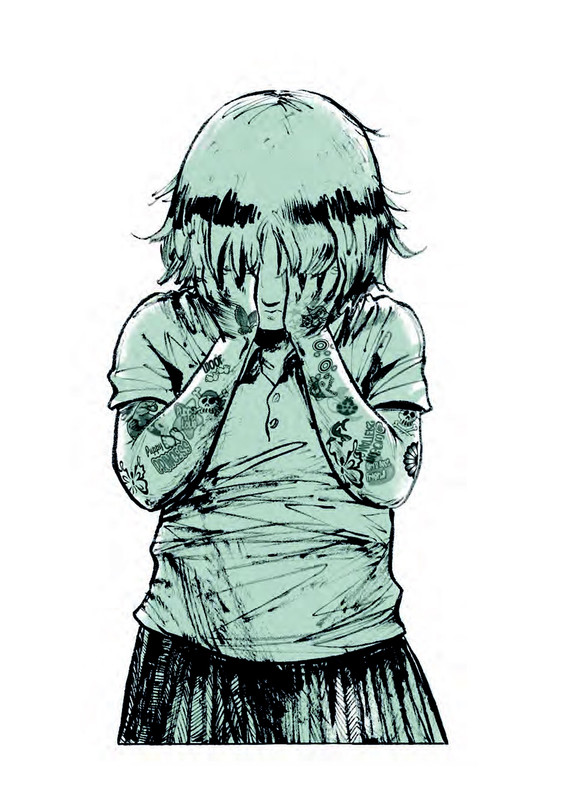 Because this story is told throughout therapy sessions it can feel disjointed at times, but each memory adds to the overall picture. I felt uncomfortable the entire time I was reading, always dreading the next violent act. This made the story feel more authentic to me because that's what ongoing violence feels like – unable to enjoy any respite because you're always waiting for the next time.
I fumed at the inaction of everyone who knew (or suspected) what was occurring in this home and failed to protect these children. We can always do better where child protection is concerned; I can only hope this is a story of how things used to be.
The colour scheme felt in keeping with the atmosphere of the story, essentially black and white, offset by a muted green throughout. I may be overthinking this but I did wonder if the green used was intended to mimic a faded bruise, even though it was a softer and prettier green on the screen I viewed the graphic novel on than a bruise is.
Content warnings include physical abuse, verbal abuse, emotional abuse, neglect, animal abuse, family violence and suicidal ideation.
Thank you to NetGalley, Lion Forge and Diamond Book Distributors for the opportunity to read this graphic novel.
Once Upon a Blurb
Life isn't easy for little Brenda, whose single teenage mum is immature, selfish, and prone to violent mood swings. Brenda takes care of her as best she can, missing out on many childhood joys to be her mother's Little Mama. Sadly, her already challenging existence gets even worse when her mum's abusive boyfriend moves in. Brenda loves having a new baby brother, but her home life soon turns into pure living hell. Finally, she reaches her breaking point, and must find the courage to save herself and embark on the difficult road towards recovery. A heartbreaking and inspiring tale of abuse and survival.
Hopping forward and backward through time through the framing device of therapy, the story unfolds as young Brenda recounts her tale, visibly maturing as the book (and sessions) continue. At first, we think it might be a child psychology session, but slowly we realize that it is in fact the adult Brenda merely feeling like the child she was at whatever age she is at during her storytelling.
A powerful story about child abuse, spousal abuse, and surviving the trauma toward hopeful blue skies.