I was drawn to Keezy Young's Taproot by the paranormal story elements and the interesting use of muted colours on the cover. Both indicated that this graphic novel would stand apart from others I've previously read. While I'm used to graphic novels that are brightly coloured and full of action sequences, I felt like I was floating through a dream while reading Taproot.
Hamal has been able to see ghosts since childhood when he thought they were imaginary friends. Hamal works as a gardener at Mr. Takashi's Flowers and has conversations with his ghost friends while he's working, which causes his boss and customers to find him odd but he's so good at his job that it doesn't cause him any real problems.
I'm usually quite allergic to love stories but this one between Hamal, the gardener and Blue, the ghost was so sweet that my allergy didn't flare up once. Blue was lonely when he first started hanging around Hamal. Blue was shocked to learn that Hamal could see and communicate with ghosts. A friendship formed between the two before blossoming into mutual love.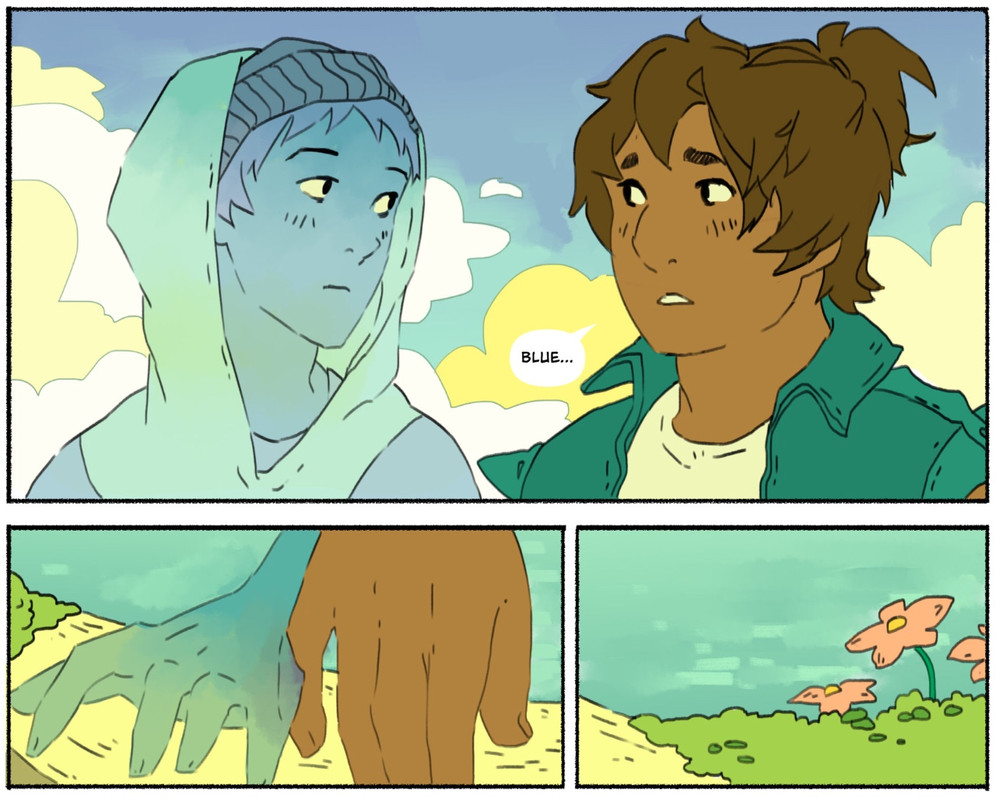 Besides his friendship and love with Blue, Hamal is also friends with two ghostie girls, Joey who is a child and April, a mischievous teenager. All three are in-betweeners, ghosts that for whatever reason haven't moved on yet.
Something strange is happening in the spirit world. The ghosts are being pulled into a dark forest for short periods of time but no one knows why. One time Blue is pulled into this mysterious forest he meets a reaper who wants to make a deal. Will Blue make the ultimate sacrifice for love?
I did have a bit of trouble connecting all of the dots during my first read as there was a lot covered in a short story and it seemed to jump around a bit. I enjoyed my second run through a lot more and found it a much more cohesive and satisfying read, getting my head around connections I'd missed the first time.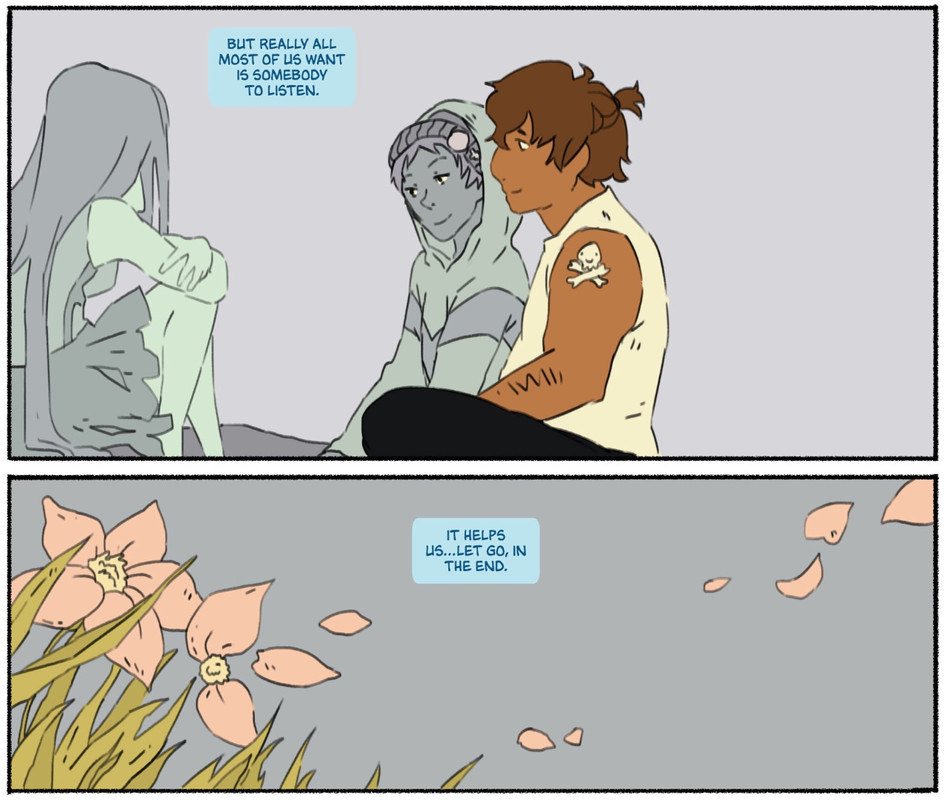 I loved the use of colour throughout this graphic novel, with the contrast between a dominance of soft greens and blues in Hamal's world and the harsh black and dull greys and browns of the forest. The colours and style of Keezy Young's illustrations added to the overall mood of the graphic novel, something that would have been diminished had bright colours been used. I adored the continued use of flowers throughout the story.
Thank you so much to NetGalley, Lion Forge and Diamond Book Distributors for the opportunity to read this graphic novel.
Once Upon a Blurb
Blue is having a hard time moving on. He's in love with his best friend. He's also dead. Luckily, Hamal can see ghosts, leaving Blue free to haunt him to his heart's content. But something eerie is happening in town, leaving the local afterlife unsettled, and when Blue realizes Hamal's strange ability may be putting him in danger, Blue has to find a way to protect him, even if it means … leaving him.