Translator – Carla Roncalli de Montorio
Starting this graphic novel I wasn't quite sure what to expect. I was initially wary because I knew it had been translated from Italian. I always worry I'm going to miss key elements in translated works but Carla Roncalli De Montorio has done a wonderful job.
Beginning with Matteo's train trip to his home town after three years in Milan with his boyfriend, he is certain he will not be welcomed into his father's home. Returning with no money, job or relationship, he lands on his Nan's doorstep, greeted by his pregnant cousin Sara. Matteo is surprised to see his aunts A, B and C are now living with his Nan. He also meets Odina, his Nan's caregiver and Francesco, his Nan's nurse.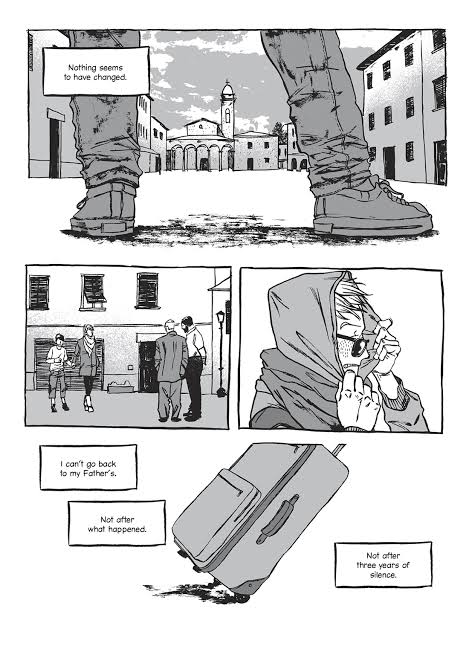 Through interactions with his family, Odina and Francesco, Matteo begins to learn to deal with his problems rather than running away from them. His individual family members, some more accepting of him than others, teach him about love, support, strength and what the generations can learn from one another.
I certainly didn't expect to cry while reading something with so few words. I guess that tells you something about how powerful this story is. Flavia Biondi, who incidentally has done a brilliant job conveying the story both in words and images, created a cast of complex characters who I came to love more because of their flaws, not despite them.
The analogy of people being apples and our family being a tree was just beautiful. Exploring themes of love, loss, grief, sexuality, homophobia and acceptance, this graphic novel's depth pleasantly surprised me.
Thank you so much to NetGalley, Lion Forge and Diamond Book Distributors for the opportunity to read this graphic novel.
Once Upon a Blurb
After three years in Milan, Matteo returns home to the provincial country town where he was born and from which he had fled. Coming out as a young gay man in a provincial country town had led to ugly clashes with his conservative father, and the urban metropolis of Milan had been a welcome change from the stifling small town life of his childhood and the anger and bewilderment of some members of his family. But now, Matteo finds himself with little choice but to return home, with no money, no job, and an uncertain future, like so many other young people of his millennial generation. Afraid of encountering his estranged father, he instead takes refuge with his extended family, at a house shared by his grandmother, three aunts, and his very pregnant cousin. As he tries to rebuild his life, reconnecting with the women of his family and old hometown friends, he warily confronts a few truths about the other generations of his family – from their bigotry to their love, and tolerance, and acceptance – and a few truths about himself, including his fears of confrontation and commitment.