Illustrations – Jeremy Melloul
Spoilers Ahead!
Well, that was dark and depressing. The young wolf is on his way to his grandmother's house to deliver a freshly slaughtered rabbit and is warned to stay away from a certain area of the forest because that's where the horrible hunter and his daughter live. On the way he gets distracted, hungry and lost. He eats the rabbit intended for his grandmother and then worries about getting into trouble.
Along comes a nice young girl who offers to take him to her place for a replacement rabbit and he naïvely follows, unknowingly walking into a trap. We end up hearing two versions of the same story at the end of the book, both told as songs to the same tune. In one version the wolves killed the hunter's wife. Therefore, wolves are evil and we must kill them all. In the other version the hunter's wife was friends with the wolves and when the hunter couldn't find his wife one night he got worried and searched for her. Seeing her with the wolves he was afraid and shot at the wolves, accidentally killing his wife.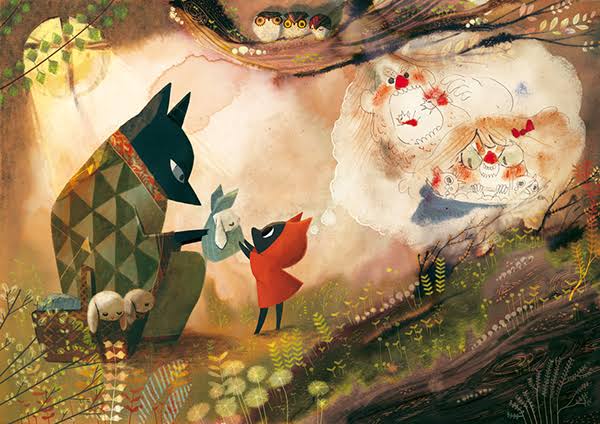 While some of the illustrations are intricate and gorgeous, others are dark and would most likely give young children nightmares if this was their bedtime story. I know that generally the fairy tales we've known all our lives didn't originate with the Disney version we're used to but that doesn't mean I want to read them to a young child. I can see this book being appreciated by some older children and adults but I personally wouldn't want to buy it.
Thank you very much to NetGalley, Lion Forge and Diamond Book Distributors for the opportunity to read this book.
Once Upon a Blurb
A young wolf, on a journey to bring his grandmother a rabbit, is charmed by the nice little girl who offers to help him … but nice is not the same as good.